Press photo event for Korean film "Cart" cancelled due to overcrowding
The press photo event for the VIP screening of upcoming film Cart had to be cancelled due to the excessive number of fans attending.
On November 3rd, Cart held a special VIP screening at Lotte Cinema, Konkuk University with Yoom Jung Ah, Kim Kang Woo, Chun Woo He, EXO's D.O and more in attendance. However, due to the sudden rush of fans attending the event, the photo wall event scheduled as part of the screening had to be cancelled for security reasons.
According to the film's promoter, a barricade for the photo wall was originally installed, but as the cast members arrived, the assigned set-up collapsed. With the safety of everyone present being put into consideration, the official press photo event had to be cancelled and moved into the auditorium instead.
The promoter explained that the filmed garnered more attention with D.O's participation, bringing the pull of EXO's popularity to their ongoing promotions. An apology was included in the statement, asking for the fans' understanding for the cancellation.
Meanwhile, it was also clarified that the alleged incident of someone hitting the fans were not relayed to the promoters, as they were occupied in the management of the cancelled press photo event.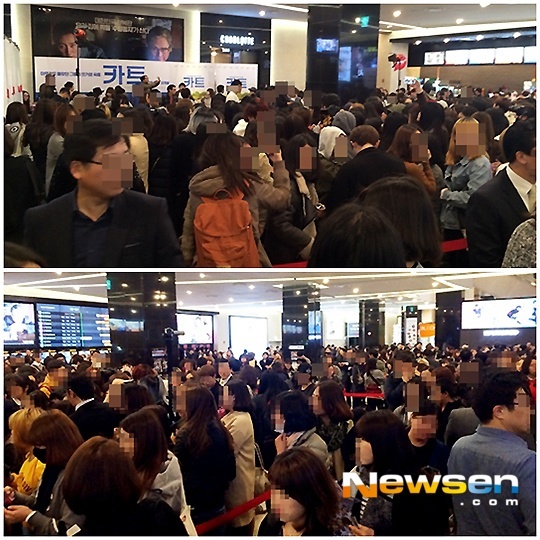 This has not been the first time that Cart experienced such dilemmas in their promotions as its previous press conference had to be postponed after extra security measures were put into place due to D.O's fans pretending to be reporters.
EXO's D.O makes his film debut in Cart, which is about the workers for a large discount store who gather and protest after being unlawfully fired. It follows a stellar line-up with actresses Yoom Jung Ah, Moon Jeong Hee and Kim Young Ae. It has made its world premiere last Septemer at the Toronto International Film Festival and is set to be released in theatres in South Korea on November 13th.
Share This Post