Produce 101's Kim Dong Bin Accused of Cheating With The Help of His Father
Another Produce 101 trainee is embroiled in a controversy for trying sway voters in his favor.
Mnet's Produce 101 is in full swing and the contestants have gone through a number of rigorous competitions already. Their latest announced contest has not been without controversy, however.
It was recently revealed that the show's remaining trainees would be placed into five different groups, performing five different concept songs, by audience vote.
Kim Dong Bin has come under scrutiny for trying to urge his fans to vote him into the concept song that he wants to participate in. His fan union, Shining Star, even posted the two songs that Kim Dong Bin wished to be a part of. The account has since been deactivated.
"Hello!! This is Kim Dong Bin's fan union Shining Star. Starting from today, voting for Produce 101's concept songs begins. We've heard that Dong Bin wants to participate in 'Open' or 'Never'. To everyone supporting Dong Bin, please vote for one of the two songs for him!!"

— Shining Star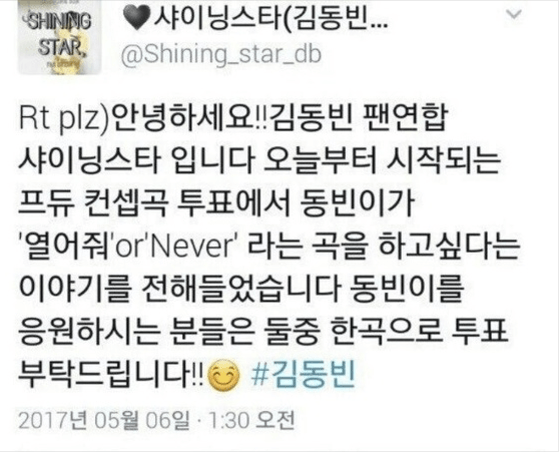 It was later revealed that it was Kim Dong Bin's father who personally asked the fan union to post about his son's song preferences, hoping to gain lots of support so his son could be in the performance group that he wanted.
Daniel Kang was also recently involved in an incident where he tried to provide hints about which of the 5 new concept songs he wanted viewers to vote him into.
Source: JoongAng
Share This Post