Here Are All The Reasons Amnesty International Disapproves of K-Drama Romances
Amnesty International Korea has analyzed K-Drama's many romantic relationships and come up with a list of things they believe are unacceptable.
While K-Dramas are loved by people from all over the world, there have been concerns regarding the violent "romance" that is often depicted in several series.
Scenes in K-Drama often include the male character forcefully grabbing a female character's wrist and pulling her along with him, unexpectedly kissing her without prior consent, or loudly shouting at her.
Amnesty International and IZE Magazine teamed up to create a movement that aims to educate people about what they feel are unacceptable violent romance scenes in some series. The movement also aims to discourage future dramas from including such scenes, as Amnesty and IZE feel they promote a skewed perception of love and relationships.
They created two hashtag movements: First, a list of unacceptable behavior exhibited by male characters in K-Dramas; second, a list of misogynistic phrases that are overly used in many drama series.
See what Amnesty International and IZE Magazine deem problematic in K-Dramas below: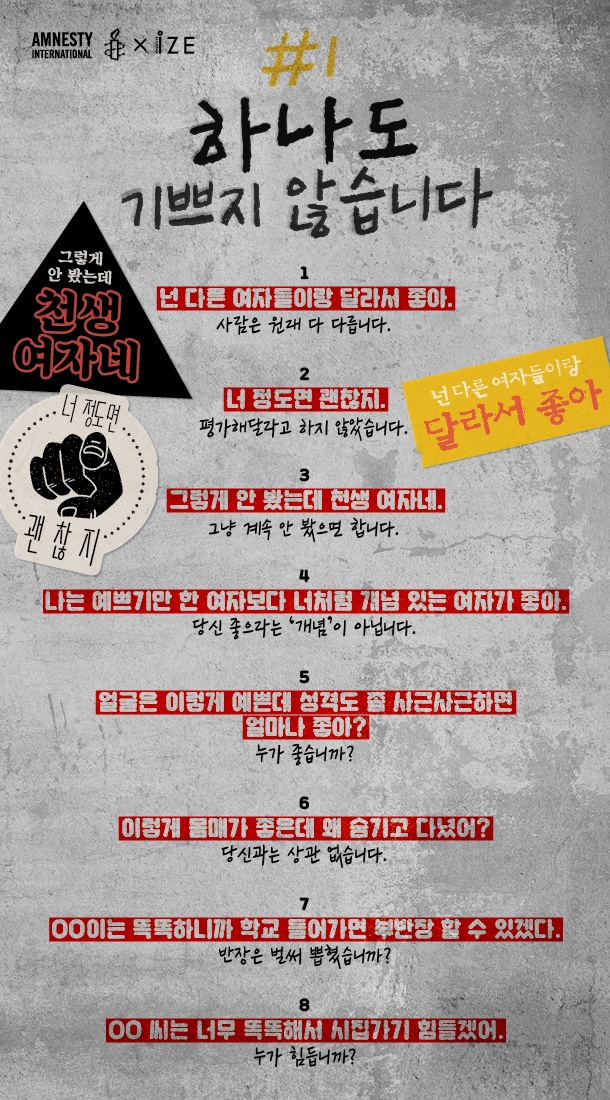 #1 It doesn't make me happy at all.

1. 'I like you because you're different from other girls.'
All people are different in their own way.

2. 'For someone like you, you're alright.'
I never asked for your judgement.

3. 'I didn't see you that way, but you're a complete girl.'
You don't need to see me in any way.

4. 'I prefer girls with great personalities, like you, to pretty girls.'

I didn't tailor my personality to suit you.

5. 'Your face is pretty, but your personality isn't as pretty, what if it were the same?'
Who would love that?

6. 'Your body is this great, why have you been hiding it?'
My body has nothing to do with you.

7. 'She is smart so she could probably be vice class captain.'
Is class captain already taken?

8. 'She is too smart, she is going to have trouble getting married'
Who's complaining?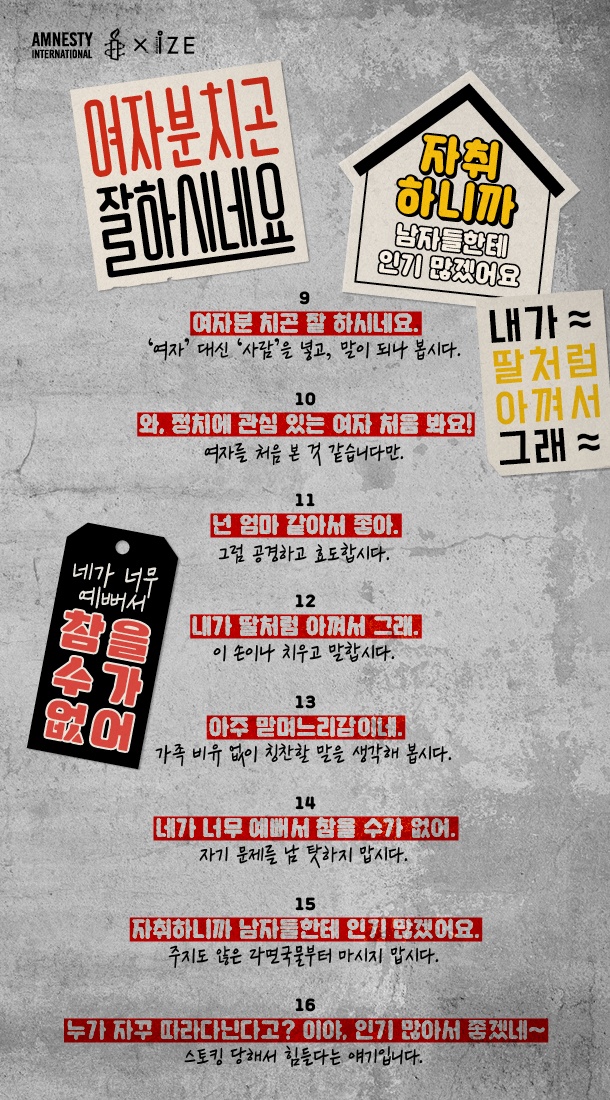 9. 'You're pretty good for a girl.'
How about replacing 'girl' with 'person' and seeing how that works out.

10. 'Wow, you're the first girl I've met who's interested in politics!'
More like this is the first time you've met a girl.

11. 'You're like a mom, that's why I like you.'
Then respect and be good to me.

12. 'It's because I care for you like a daughter.'
Then keep your hands off me.

13. 'You're daughter-in-law material.'
Try and come up with a compliment that doesn't relate me to your family.

14. 'I couldn't control myself because you're so pretty.'
Don't blame someone else for your problem.

15. 'You must be really popular among men since you live by yourself.'
Don't think ahead.

16. 'Someone's been following you? Wow, you must feel good that you're popular~'
That means I'm stressed because I'm being stalked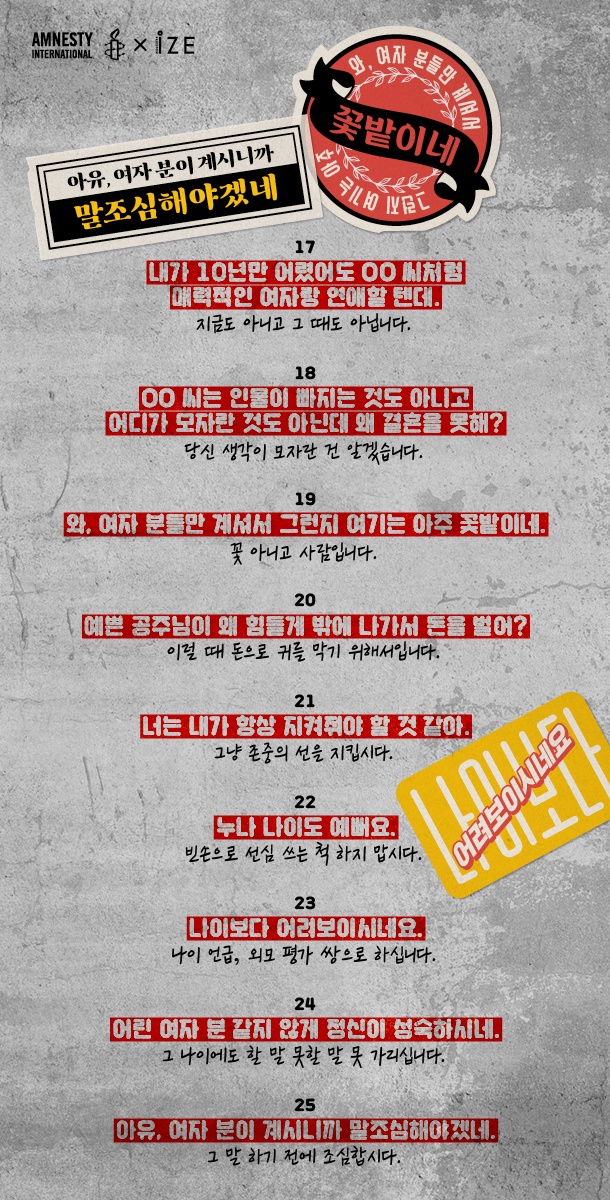 17. 'If I was just 10 years younger, I'd be dating someone as pretty as you.'
Not now, and not then.

18. 'It's not like you're ugly or anything, but what are you lacking that's stopping you from getting married?'
You're manners are lacking.

19. 'Wow, maybe it's because there are only women here, but it's like a flower field here.'
We're not flowers, we're people.

20. 'What's a pretty princess like you working for?'
To block my ears with the money I earn so I don't have to hear your words.

21. 'I feel like I have to constantly protect you.'
All you have to do is respect me and not cross the line.

22. 'Nuna, you're pretty at your age.'
Don't pretend to be virtuous.

23. 'You look younger than your age.'
You're judging both my looks and my age.

24. 'You're very mature and not like a young woman.'
You don't know what to say and what not to say, even at that age.

25. 'Oops, I better be careful with what I say now that there's a woman around.'
Be careful with what you say, always."

#2 I'm not impressed anymore.
— 10 Cliche and Violent Romantic acts in Korean dramas —

1. Forcefully pulling women
2. Shouting and cursing
3. Forcefully lifting and carrying women
4. Pushing them up against a wall
5. Driving violently
6. Throwing or wrecking items
7. Turning up at their house unexpectedly
8. Announcing relationship without consent
9. Abandoning them on the streets
10. Forcefully kissing them"
Source: IZE Magazine [1], and [2]
Share This Post