Red Velvet's Irene speaks the truth behind her dating rumor with Park Bo Gum
 Red Velvet's Irene, talked about her feelings for Park Bo Gum, and what she said cleared up all suspicions of dating between Irene and Park Bo Gum.
On December 7th, the full broadcast for Radio Star, where Irene appeared as a guest, was aired. The appearance already caught much attention as she disclosed her true feelings for actor Park Bo Gum.
Super Junior's Kyuhyun and the rest of the panel members were suspicious of their relationship. Both Irene and Park Bo Gum were famous as a visual couple during their stint as Music Bank hosts. This onscreen chemistry led to speculations that the two may be dating in real life as well. However, when asked about her thoughts about it, Irene simply gave a frank reply, "I didn't even know there were any dating rumors…"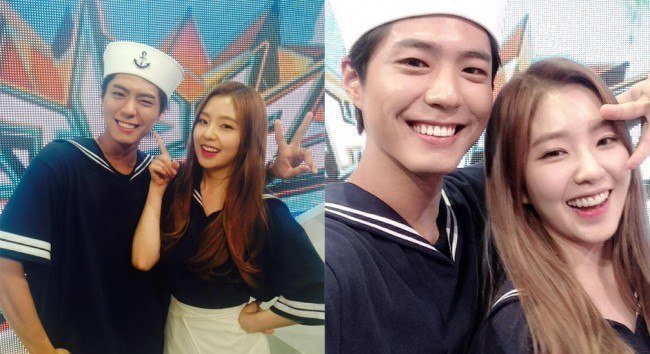 Irene was also asked about out the one behavior she liked about the actor. To this, she revealed, "As everyone knows, he has good manners. If I'm wearing heels, he would hold my hand if there were stairs."  However, when asked about her ideal type, she simply answered, "I like a person that's warm."
This led to Kim Gura insisting that "Park Bo Gum is a warm person" but Yoon Jong Shin joked,"but his hands are cold," causing great amounts of laughter.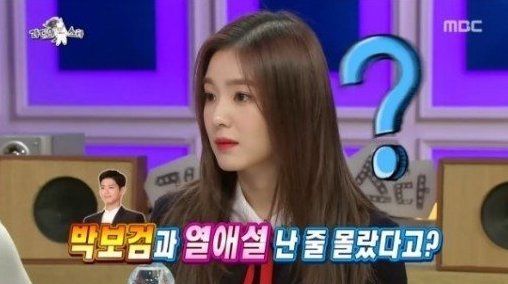 The fact that she did not even realize there was a dating rumor between her and her former seems to put all suspicion of dating between the two stars once and for all.
Have a look at her segment and tell us what you think. 
Source: Dispatch, SportsWorld and SportsNews
Share This Post