Restaurant under fire for sexually comparing female students to fruits
A Korean restaurant's attempt at humor has been reported as sexual harassment, as it compares female university students' bodies to fruits.
In a recent post on Facebook, a student from the University of Ulsan uploaded a photo of a note that was hung up in a restaurant near the school.
The note contained extremely derogatory content and compared women to different fruits. The note went on to explain the level of ease for a male to "undress" the fruits.
"Fellow University of Ulsan students, what do you think of this? Someone posted this in an online community and claims it's in a restaurant in Ulsan's Dal-dong or Samsan-dong. As [one of the] "female students" in this post I find this extremely offensive. ㅋㅋㅋㅋㅋ

You know how they say the other person has to find it funny in order for it to be a joke? What do you all think?"

— University of Ulsan Student
The note compares students with pineapples and bananas, discussing with extreme sexual innuendo the differences between students from different grades in University. Koreaboo has translated the letter below. The letter is titled, "Comparing female students with fruits!"
Freshmen – Pineapple
Not easy to remove the skin, but inside it's sweet and sour and soft!

Sophomores – Banana
Easy to remove the skin and inside it's soft!

Juniors – Apple
Easy to get from anywhere and also delicious!

Seniors – Tomato
They still think they're considered fruits.
#1861번째썰 울산대학교 학우분들 이거 어떻게 생각하세요? 울산 달동 or 삼산동에 있는 가게에 붙어있다고 모 커뮤니티에 올라왔거든요 저는 그 '여대생'인 입장에서 굉장히 불쾌한데 ㅋㅋㅋㅋㅋ 장난은 상대방도 재미있어야 장난이라고 하잖아요? 학우분들은 이거 어떻게 생각하세요?

Posted by 울산대학교 대나무숲 on Saturday, March 18, 2017
Students attending the university were absolutely horrified at how derogatory and insulting the letter was and expressed their disgust at the restaurant owner's ignorance. As a result, the owner uploaded a hand-written letter apologizing for his thoughtless actions and promised never to do such an immature thing ever again.
"First, I am the owner of this restaurant. I am so sorry. I bow my head and apologize once again to all women and female students who read this and felt angry or hurt. The text was something I saw in a humor community portal.

I didn't think and just thought of it as funny, so I put it on display in the men's bathroom. I apologize again for my fault of thinking this was actually humorous.

I know that anything I say will not lessen any anger. But I am absolutely in the wrong, and I interpreted a bad text as humor and displayed it in the bathrooms. I will not give any excuses or reasons to this. It is absolutely my fault, and this incident occurred from my ignorance.

The problematic text has been removed from the restaurant's bathroom and has been disposed of. I would really like to apologize once again to all women and female students.

I will also strive to change my views so that I don't interpret these bad texts as humor in the future. I sincerely repent my actions and I will not act ignorantly like this in the future.

I am so sorry. I reflect deeply and ask for your forgiveness."

— Restaurant Owner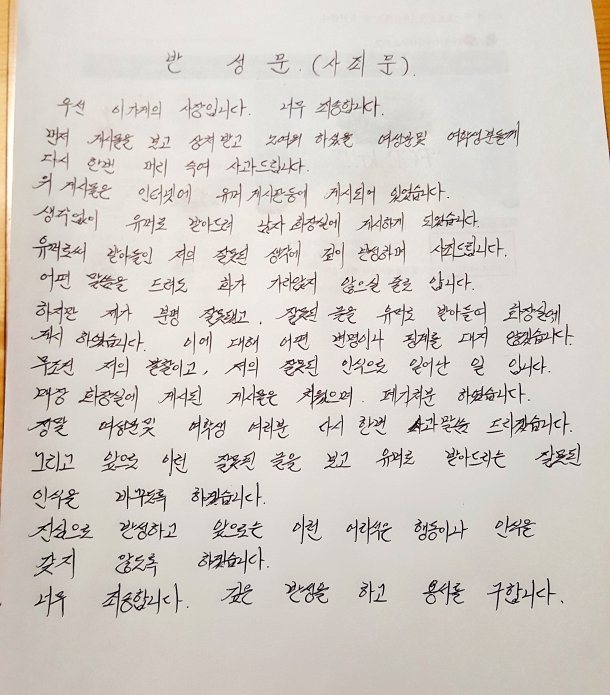 Source: Dispatch
Share This Post