Rumors resurface of EXO's D.O planning to leave the group for good
A rumor has resurfaced as some fans claimed that EXO member D.O is planning to leave the group in the future.
To EXO-Ls, this rumor isn't new as it has surfaced previously in the past. With D.O getting more immersed in his acting career, the rumor claims that he will be switching gears from singer to actor.
Below is a translation of a series of posts that allegedly backs up the rumor. Of course, this rumor should be taken with a grain of salt until SM Entertainment decides to respond.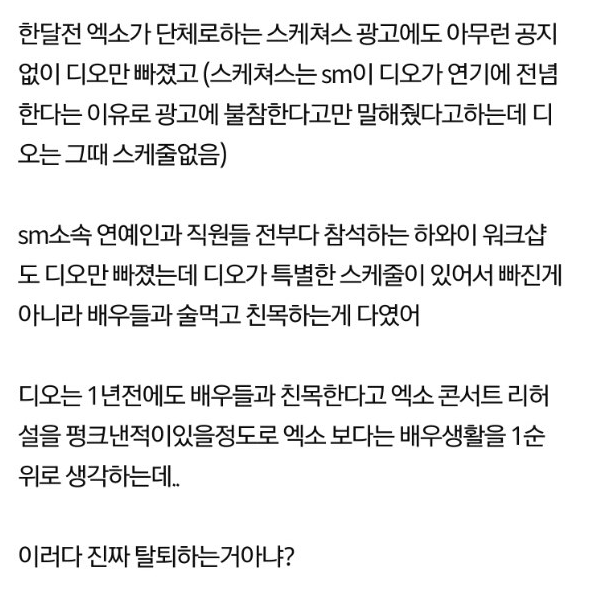 "For the Sketcher's commercial, D.O was the only one missing out of the group last month. (Sketchers only stated that SM explained D.O was missing because he was focusing on his acting but D.O didn't have any schedule that day.)
We thought that D.O was missing from SM Entertainment staff and celebrities' Hawaii workshop due to special schedules, but he was drinking with close acting friends and hanging out.
Last year, D.O prioritized his acting career before EXO by not showing up for their rehearsal to meet up with his acting friends..
Is he really going to leave the group for good?"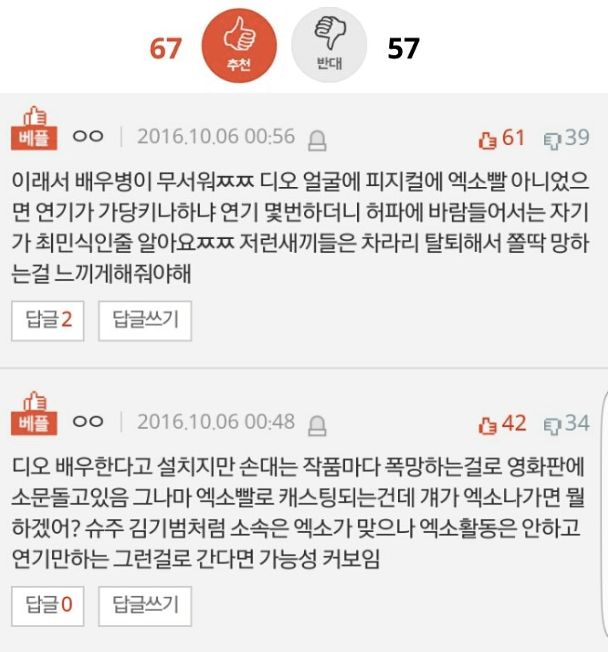 "This is why the 'actor syndrome' is scary.. tsk tsk. Do you think he would have been able to become an actor if he wasn't a member of EXO? He thinks he is a prominent actor like Choi Min Sik tsk tsk. We have to let a fool like that know by making him fail after kicking him out of the group."
"I know D.O made it a big thing that he is becoming an actor, but there are already known sayings around the industry that every project he is in fails. He was being cast because he was EXO but what would he do after he leaves? I could see that he might become the next Kim Kibum [former Super Junior member] for EXO where he will still identify himself as a member but doesn't do any activities with them."

"He doesn't have the special appearance or acting skills to be an actor."
Source: Pann
Share This Post