SBS "Gayo Daejun" PD affirms that lineup currently circulating online is false
Amidst the new year-end SBS Awards Festival, an unclear picture of the lineup for this year's Gayo Daejun circulating online had left fans and netizens confused, prompting its PD to speak up against the false information.
On November 26th, the picture of the apparent lineup had been posted on an online community site, listing the current biggest stars such as TVXQ, 2NE1, Girl's Day, Park Hyoshin, Sunmi, Fly to the Sky, Davichi, Ailee, Junggigo, Leessang's Gary, San-E, HIGH4, and more.
This is contradicting to YG Entertainment's previous statement that 2NE1 will shy away from all major music awards in South Korea this year.
The list overall covered various solo artist and groups from a variety of companies and had been made to look believable by uploading it through the official blog of the event.The blog is said to have been most likely hacked, thus making it look all the more official through the name of an official figure of the event.
However, upon checking, the list is confirmed to be false. PD Kim Joohyung had explained to DongA, "It's material with no truth in it. We're at a state where we haven't even opened up the site for the event. And there has never been a preceding list released prior to the site opening." In addition, "Though we're not sure, he/she may have spread this for a chance to sell illegal tickets. I wish that no one would get fooled."
Though the person responsible for the spread of false information has not been identified, the production team emphasised that the official line-up will be released once all artists are confirmed.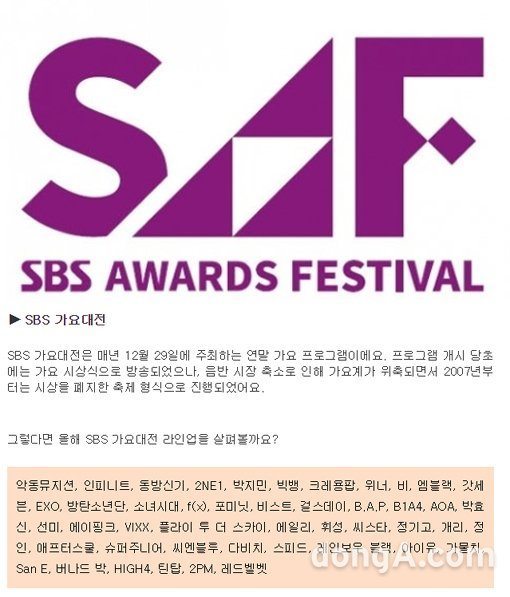 Share This Post