[★BREAKING] SBS Officially Apologizes To Fans For Cancelling Running Man
The entire cast and crew of Running Man apologized on the latest episode of the program after the massive controversies that ended the show's 7-year run.
Previously, SBS and Running Man apologized to Kim Jong Kook and Song Ji Hyo for the inappropriately removing them from the show without warning. Now, they've apologized again but on live television in the latest episode.
On the December 25th episode of Running Man, the members gathered in front of a box with a gift from the staff of the program. The big gift contained a basket of apples and a letter from the staff.  Apples or "sagwa" in Korean is the same word for an apology.
Watch The Scene From The Latest Episode At The End Of the Article
It was Kim Jong Kook's first back at the program since the controversy began and opened up saying, "I never expected to see these faces again but here I am again." 
Yoo Jae Suk opened up the gift and the letter from the staff. The letter said, 'To the members of Running man we love. We apologize for putting you guys through such pain. We will work hard and become a more mature team of staff."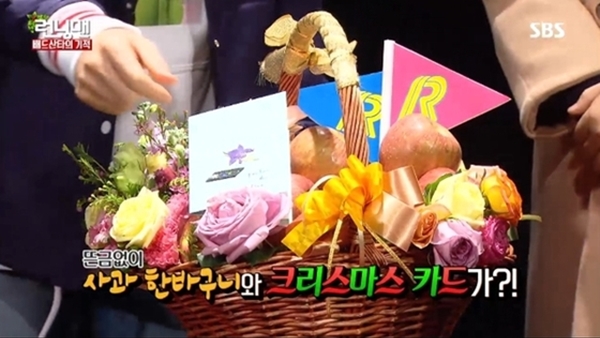 Yoo Jae Suk continued on to say, "We will run harder from the New Year. We apologize for worrying everyone and Merry Christmas."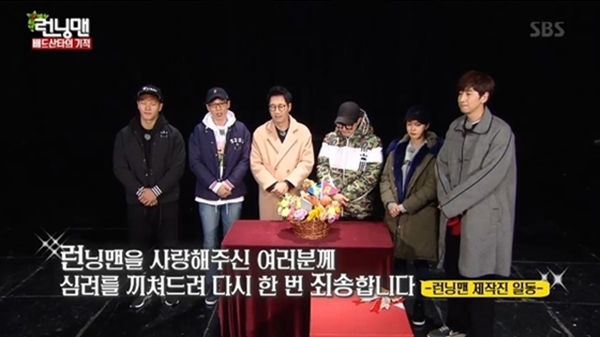 Recently, Running Man was revealed to be changing the format of the program for their new season. Kim Jong Kook and Song Ji Hyo, however, were not informed of their possible departure, causing hurt and controversy. An apology from SBS acknowledged their fault on the miscommunication and decided to ultimately end the program by February instead.
Watch the scene from the next episode (Running Man Episode 463) below:
(Video May Take A Few Minutes To Load. Please Be Patient!)
Source: Dispatch
Share This Post