Sechs Kies' new track is the most anticipated by fans as it hits all-kill
Sechs Kies drop a new track after 16 years since their initial disbandment, and it has risen straight to the top of the digital charts.
On October 7th, the 1st generation idol group released the single "Three Words," a love song that describes the hearts of two lovers who meet up again after a difficult breakup. For this track, Epik High's Tablo participated as the lyricist and composer with the YG Entertainment producing team YG BOUNCE also credited as the composer and arranger.
The three words, "now, here, we…", can also be used to describe the relationship between Sechs Kies and their fans as they have finally met up again after 16 years.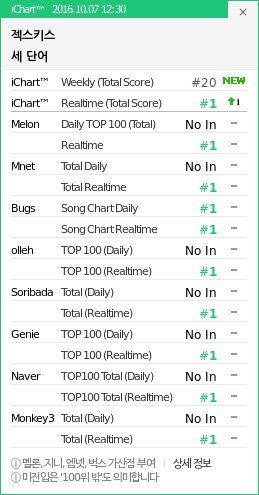 Just hours after being release, "Three Words" achieved an all-kill on the digital real-time charts, showing just how much their comeback has been anticipated by the public.
Since their initial reunion in April through MBC's Infinite Challenge, Sechs Kies have been working hard to make a comeback with new music, signing on with YG Entertainment as a result. While they did make a debut as a 6-member group in 1997, they have greeted fans as a 5-member group as a result of member Go Ji Young unable to join them as he had exited the music industry following the breakup unlike the rest.
In addition to "Three Words," Sechs Kies have already completed recording another track whose release date has not yet been determined.
After 16-years, Sechs Kies have proven their status as a top group with their latest all-kill, dethroning ballad singer Park Hyo Shin, who has been dominating charts this fall.
Source: TV Report
Share This Post