SEVENTEEN Wonwoo apologizes for past actions towards Girls' Generation
SEVENTEEN Wonwoo is in the middle of a controversy after old comments posted online while in elementary school resurfaced as they were inflammatory posts made towards Girls' Generation during their rookie days.
Following the blow out and negative reactions from the initial exposure, both Wonwoo and his agency Pledis Entertainment have responded, apologizing to fans for his past mistakes.
Taking personal responsibility for his mistakes, Wonwoo writes a handwritten apology which was posted through the group's fan cafe.
The post made by Pledis Entertainment:
"Hello, this is Pledis Staff.
First, you must have all been surprised by the past posts made by our agency's artist SEVENTEEN Wonwoo, we would like to apologize to all the fans. 
Instead of relying on the agency to apologize, he wanted to personally apologize and we believed it was the best way to relay Wonwoo's sincere heart. We hope that through this, Wonwoo's sincerity can be relayed even if a little.  
Also, we would like to apologize for the agency being unable to fulfill the role of a good guardian properly. We will strive to prevent further disappointment. 
Once again, we would like to apologize to everyone."
Wonwoo's handwritten apology:
Hello this is Wonwoo.
First off I would like to apologize to everyone that was hurt by this incident.
I did not want to make excuses and avoid blame by saying that I do not remember because it was such a long time ago. Instead I felt it was the right thing to do to recognize my fault and take punishment for my actions. Although these words were written at a young age, the words were my own and I would like to apologize to sunbaenims, SNSD sunbaenims and CARATS that I hurt. I also want to apologize to my members who worked so hard with me to get to where we are today.
Thinking back, I was so very immature. I thought lightly of celebrities on TV and I did not even think that words thrown so lightly could hurt someone. I realized the weight on the shoulders of those who perform on stage after I started training in middle school. The amount of people that put in countless hours of work to debut one singer and how a singer feels going on stage, I realized all this after I started promoting as a member of SEVENTEEN. I realized what an amazing feat the SNSD sunbaenims have achieved and came to respect them. I also realized that this career is something you cannot take lightly due to all the love from your fans. I realized the amount of impact the words of the public and every little comment can have on a person. For these reasons I regret my actions even more.
I do not have the audacity to ask for forgiveness. But I endlessly regret and apologize to the SNSD sunbaenims. The posts I uploaded without thought were wrong no matter how you look at it and so hurtful that I cannot raise my head from shame. I will work hard to never disappoint you again. I will take note and read all the criticisms headed my way and will never forget them. I hope you can teach me more down the road. I apologize again. I am sorry.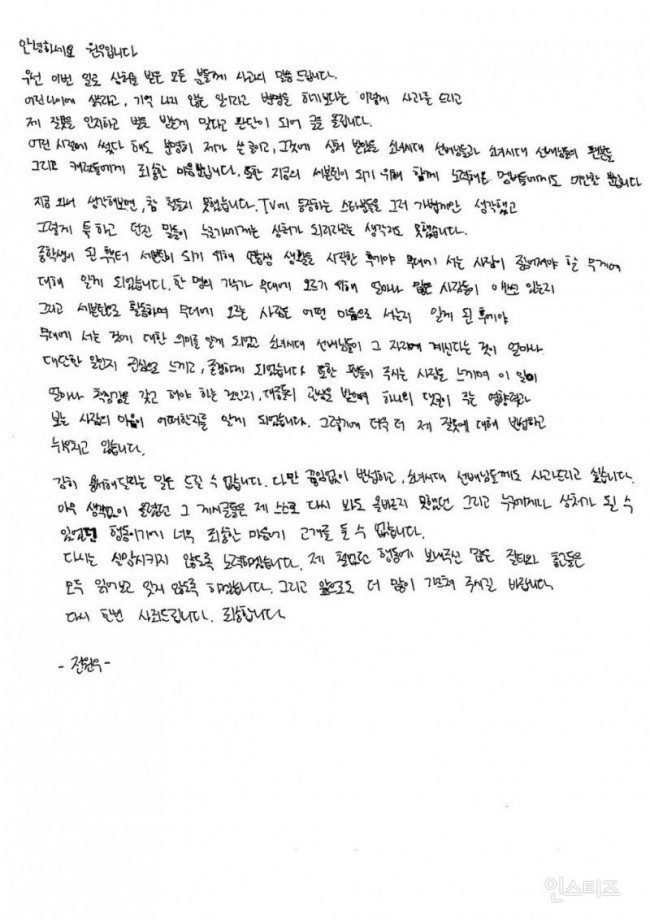 Source: Instiz
Share This Post