Severe Stage Issues Plague EXO, TWICE, and GFRIEND at 2016's SBS Gayo Daejun
Live telecasts of star-studded award ceremonies are sometimes plagued by minor slip-ups, but this year's SBS Gayo Daejeon was rife with mistakes.
On December 26th, SBS aired the live telecast of their yearly awards ceremony, 2016 SAF Gayo Daejeon (SBS Gayo Daejeon). EXO, TWICE, and GFRIEND were among the select idol groups scheduled to perform at the award ceremony. While most performances went smoothly, these three groups suffered from various malfunctions during their sets that made it into the live broadcast.
Before the live ceremony aired, videos of prerecorded performances and rehearsals of by EXO, BLACKPINK's Lisa and BTS's performances were leaked onto YouTube. It was quickly found that the videos had been filmed by an SBS broadcast camera and weren't the creation of fans.
According to one fan, fans started to queue for a number of these prerecordings as early as 10 am, but many were sent home before they were filmed. If the response to certain groups seemed lacklustre, this fan claims it's because their prerecorded stages were recorded in the presence of other groups' fans rather than their own.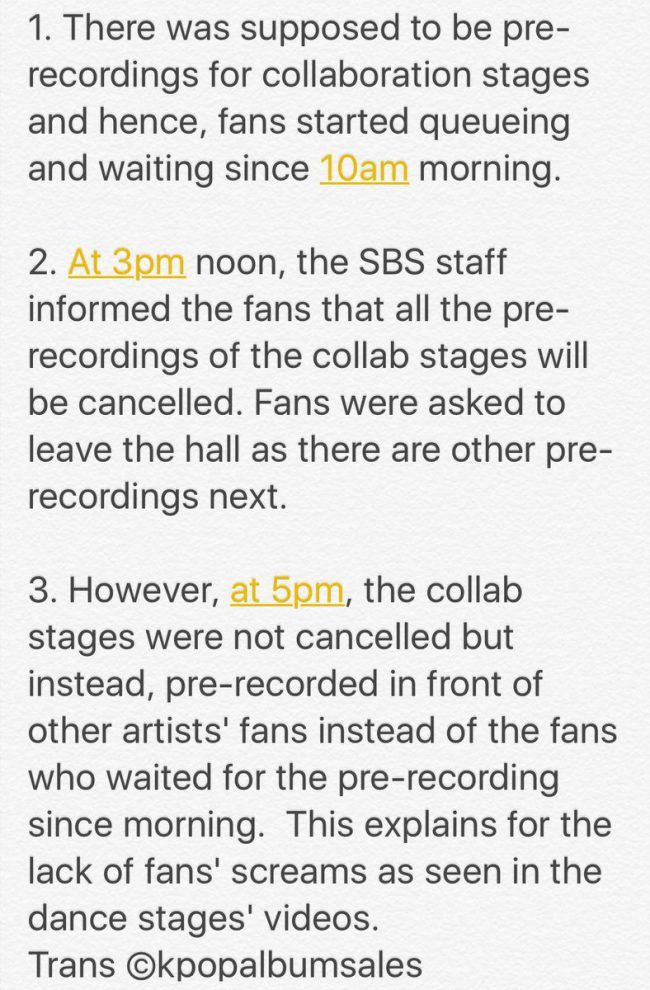 Kai's missing solo performance and EXO's glaring audio glitches:
One of the stages during these prerecorded performances was a solo performance from EXO's Kai. A video from a fan present confirmed that Kai was ready for this solo number. Due to problems with his MR, however, he was not able to perform it live.
161226 가요대전 잠시멘붕온고미를 뒤에서 보는 횽아들 #카이 #엑소 pic.twitter.com/1lEIWSo9tK

— 똘백이 (@bhj9256) December 26, 2016
EXO's performance was also littered with malfunctions, including Sehun and Kai's "One and Only" VCR and an audio glitch during "Monster".
SBS fucked up with the live audio tsk tsk Baekhyun and the other members looks totally a lost pup lol pic.twitter.com/zTjiFaqcpU

— Obri s/h 'ㅅ' (@baekthemochi) December 26, 2016
TWICE's faltering "Cheer Up!"performance and GFRIEND's prerecorded audio
An audio glitch also happened during TWICE's stage. Instead of playing "Cheer Up!" during their performance, the background audio for GFRIEND's track was accidentally included in the live telecast.
A similar mistake occurred during GFRIEND's stage. G-FRIEND was thought to be performing live at the ceremony, but the audio proved otherwise.
https://www.youtube.com/watch?v=3EsLGSID8ws
When asked about the leaked videos and stage issues, SBS stated that they will release a statement after they investigate the broadcast.
Share This Post