SHINee's Onew And Minho Reveal The Positions They Wish They Had In The Group
Minho=SHINee's new maknae?
SHINee is on the cover of the August 2021 issue of Marie Claire Korea, and the cover stars have been giving Shawols lots of content!
Onew and Minho sat down together for an episode of Marie Claire Guessing Interview, which is a series the magazine posts on their YouTube channel. In this series, K-Pop group members have to guess how their fellow members will answer the questions they're asked during the game.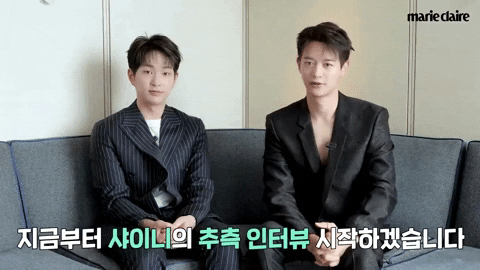 During their interview, Onew and Minho were asked to choose between being a leader who stops the quarrel among other members and being the youngest who accepts the older members. They also had to try to predict how the other person would answer the question.
Minho said Onew must have faced many difficulties as the leader and guessed that SHINee's leader would choose to be the maknae (youngest).
Onew said he does wonder what it would be like to be the youngest member, but he never had to stop a fight between the SHINee members as their leader.
Ultimately, Onew decided that he would rather be SHINee's leader than the youngest member.
Onew guessed that Minho would also choose to be the leader because he enjoys being a mood-maker.
Minho told Onew that he would prefer to be the youngest member over being the leader.
Minho explained his reasoning by saying that watching Taemin made him realize that being the youngest member who can defy the older members would be the best.
Check out Onew and Minho's full guessing game below!
Share This Post