Actor On Si Woo Publicly Calls Out Lee Goo Ju For Sexually Harassing Male Celebs
Actor On Si Woo and comedian Lee Gook Ju are involved in an online dispute, and they're feud is currently taking over the Internet.
On March 19, Lee Gook Ju updated her Instagram with a screenshot of several malicious comments she received criticizing her physical appearance and mentioning her on-screen rapper husband, Sleepy.
The post has since been deleted, but some of the malicious comments included the following:
"Even if I was given a huge payment to film, I wouldn't film with that fat pig."
"He's [Sleepy's] kissing a pig's head~"
Along with the screenshot, Lee Gook Ju wrote a message entirely in hashtags, hinting to the fact that she will be taking legal action against these netizens soon, and telling her fans not to worry too much.
"You all must be very handsome. Even if you gave me 10 billion KRW (approximately $8.9 million USD) I wouldn't film with you. Worry about yourselves before you worry about Sleepy. Sorry, but I'm screenshotting all of this. My oppa fans, please don't worry. I don't get scars. But I'm not going to sit around and do nothing. You can expect good news."

— Lee Gook Ju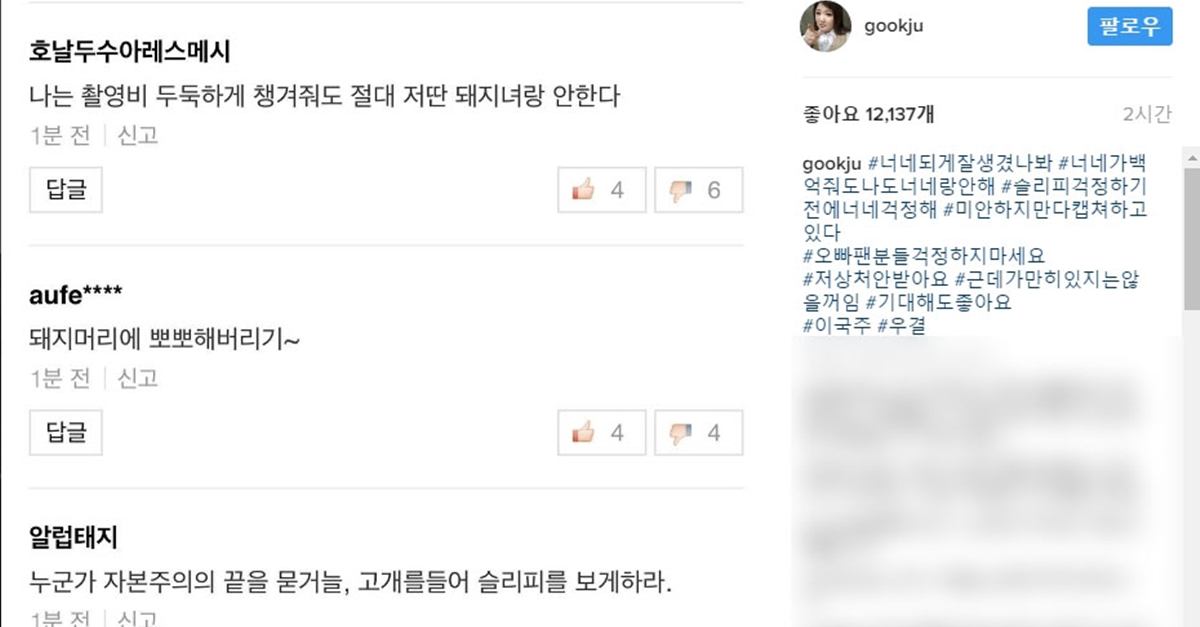 While many of her followers applauded her for speaking out and putting her haters on blast, actor On Si Woo turned to Facebook to voice his opinion about Lee Gook Ju's post by commenting on a link to an article that reported on her reaction.
"Do you feel hurt after being ridiculed in the comments? I wonder how the male celebrities felt when you sexually harassed them in a public space? You made it impossible for them to even express their anger so they couldn't do anything but bitterly laugh it off.  You could have been reported over 10 times. You should be ashamed of yourself"

— On Si Woo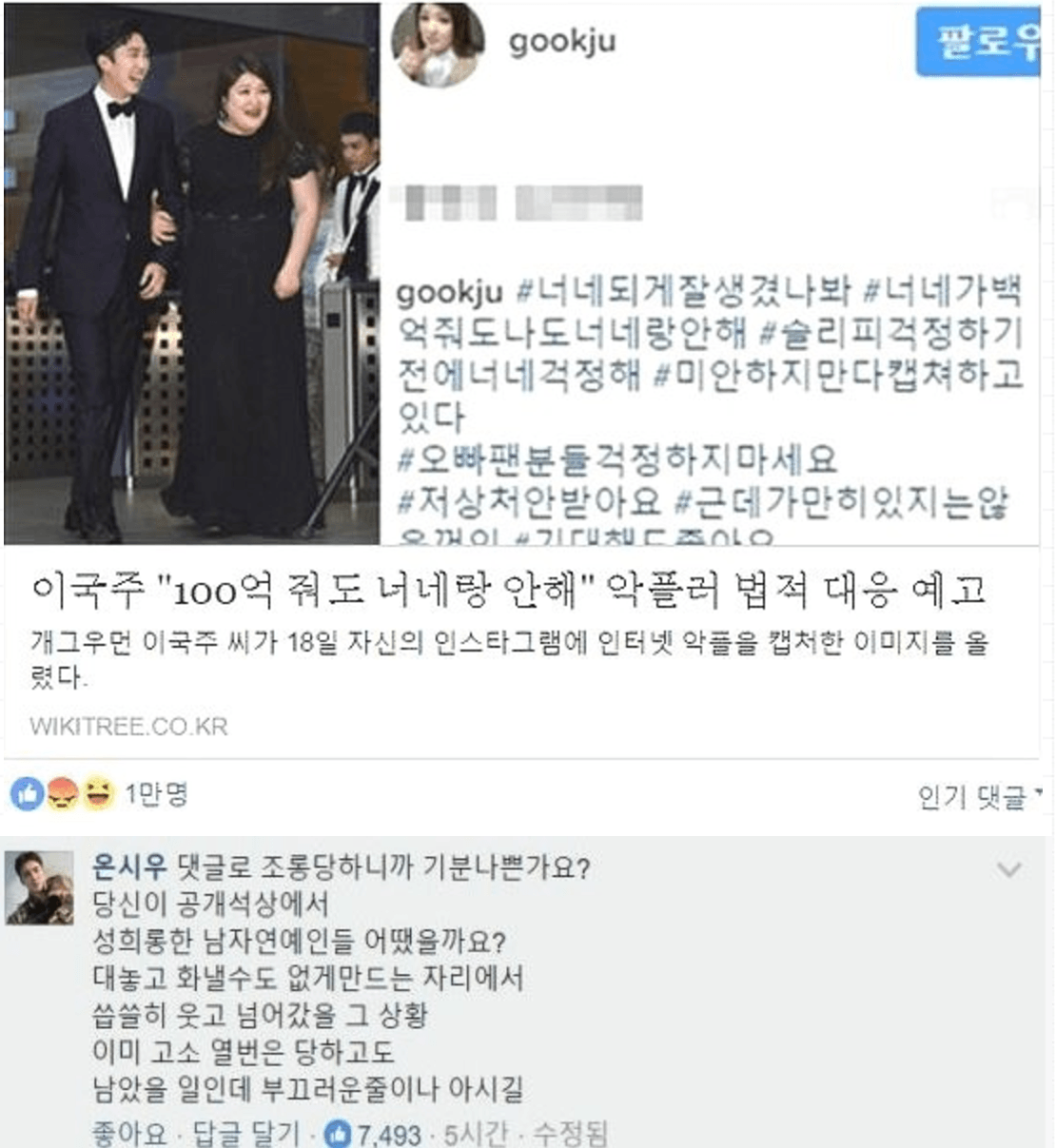 On Si Woo's comment gathered thousands of likes, and netizens began looking deep into incidents where Lee Gook Ju had molested or harassed other male celebrities all for the sake of entertainment.
Soon, netizens found that Lee Gook Ju had grabbed the rears of multiple male celebrities without their prior consent, while in other shows, she has also surprise-kissed male celebrities, causing netizens to think Lee Gook Ju should not be taking legal action against her haters.
For example, Lee Gook Ju once forced Kim Jong Kook to kiss her on the cheek during the 2015 SBS Entertainment Awards, but as the countdown reached zero, Lee Gook Ju quickly turned her head so that he ended up kissing her on the lips instead.
(Watch from 0:58 mark)
Currently, netizens are very divided as to who is in the wrong, and heated debates about this issue are still ongoing in various online communities.
Source: Dispatch, Xports News, and Kookmin Ilbo
Share This Post