[★TRENDING] SISTAR accused of plagiarizing JYJ's Junsu for "Shake It"
Recently, top girl group SISTAR made their comeback with their third mini-album and title track, "Shake It."
Earlier this week, the group released their comeback music video for "Shake It" featuring rookie label mates MONSTA X. Following SISTAR's MelOn Premiere Showcase, the track achieved a perfect all-kill on the charts.
However, amidst their comeback success, SISTAR has been hit with plagiarism accusations regarding a song on their latest album. On June 23rd, a post on the Korean site Pann claimed that one of their recent songs was too similar to a previous hit song. The track, "Bad Guy," off of their third mini-album has been accused of plagiarizing JYJ member XIA Junsu's hit song "Flower."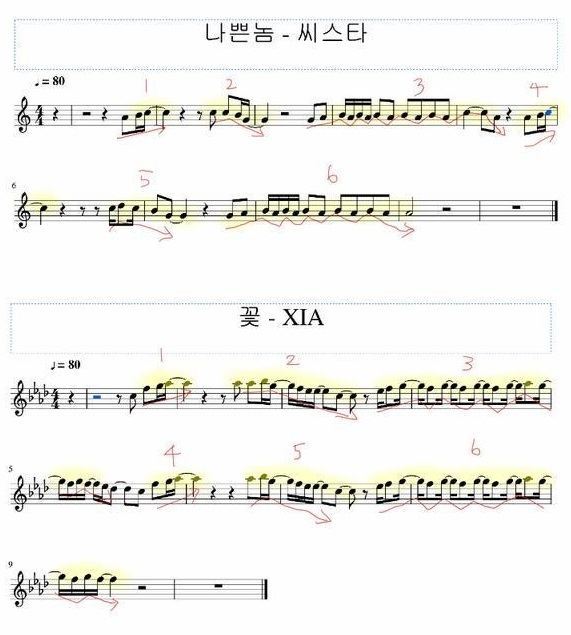 The Pann post included a comparison of the score of the two songs as well as an audio comparison of the songs. After taking a look at the video, most netizens seemed to agree that the songs have an uncanny similarity.
Check out the comparison below:
https://www.youtube.com/watch?v=nGhEmur50S8
Many netizens expressed their awe that the songs were so similar and that the original track was popular so it would be hard not to notice the similarities. Some netizens even expressed their frustration and sadness.
[+ 234, – 12] They just changed the last notes and everything else is exactly the same……..I'm not his fan but I listened to this song a lot ㅋㅋㅋㅋㅋ what were they thinking so obviously plagiarizing a song that did well ??
[+ 216, – 7] Wow…what is this … crazy
[+ 91, – 3] He was held back for 6 years and he finally  used this song to appear on a music show. It upsets me that it was copied in such a way. When it comes to music Junsu is so passionate and careful…and he was plagiarized….I feel so sorry for Junsu.
Source: Pann
Share This Post