Strawberry Milk surprises students with guerilla performance and fan meet
Twins ChoA and Way of Strawberry Milk are definitely fond of surprising their fans as they hold a guerrilla performance and fan meet in Seoul, South Korea!
On November 6th, the Crayon Pop sub-unit Strawberry Milk surprised students at Pungmoon Girl's High School in the Jongno District of Seoul with a guerilla performance and fan meeting event.
When the girls of Pungmoon Girl's High School realized that Strawberry Milk was holding a guerilla event for them, they quickly flocked to take photos and videos of the performance on their phones. The group performed their debut song "OK" for their fans, who responded with incredibly loud shouting and cheering. In addition to the performance, ChoA and Way also posed for pictures with fans and gave out free gifts.
Two weeks ago, the girls held an impromptu dinner event for their fans after KBS Music Bank, and now they shocked their fans yet again with an unplanned live performance.
Meanwhile, Strawberry Milk has been promoting on music shows with their hit song "OK" for the past couple of weeks, and also performed again on the November 6th's episode of Mnet M! Countdown.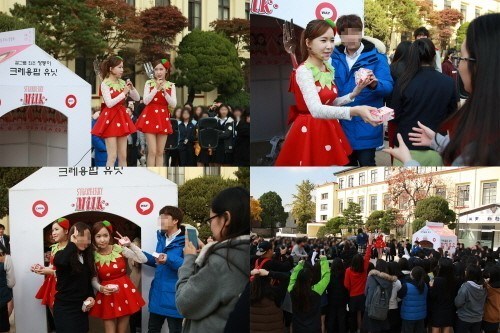 Source: Chosun
Share This Post