Students question EXO's Chen about relationship with Apink's Bomi at Q&A
During a recent episode of Entertainment Relay, EXO visited Kai and Sehun's high school, Seoul of Performing Arts, for a surprise event with the students.
Soon after its broadcast, fancams of scenes that were not included in the episode were uploaded to YouTube although they have since been deleted. The scene in question occurred when students asked Chen if he really dated Apink's Bomi.
It seemed that Chen did not hear the question properly, however, he was taken by surprise and seemed to have a blank expression on his face. Fellow member Xiumin's expression hardened at the question, prompting netizens to accuse the students of prying too far into the member's private lives.
In another incident, students rudely shouted, "Hey Chinese! Chinese!" as they tried to get the attention of Chinese member Lay. Students also continuously asked without restraint where the group members had their plastic surgery done, implying that the idols had surgery.
Later, a student uploaded a photo of the signed album that the students received captioned, "EXO came and gave me some pocket money," implying that he was going to sell the valuable album.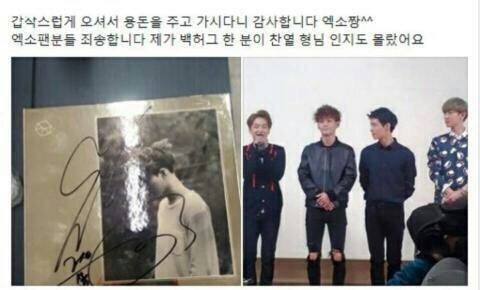 Since these incidents were found, the school has been receiving a bad name due to the student's rude behavior toward the idol group.
Source: Instiz
Share This Post