Taeyeon achieves all-kill status for solo debut track "I" on digital charts
Girls' Generation's Taeyeon has made a successful solo debut as her title track "I" featuring Verbal Jint has reached the top of the charts in #1!
Her 1st solo mini-album was released on October 7th at midnight KST and almost immediately topped Mnet's digital online charts.

Several of her other songs also charted in the Top 10 in other digital charts with her second title track "U R," "Gemini," "Stress," and "Farewell," including Bugs, MelOn, and more.
Ten hours after her album I was published online, her title track of the same name achieved an all-kill status on the major digital charts, proving it to be the more preferable title track of the two.
She continues her all-kill status in the next hour, while "U R" seems to be also very well-loved as it takes the ranks of #2 and #3 on real-time charts.
Meanwhile, Taeyeon will have her very first solo stage on this week Mnet's M! Countdown on October 8th. A music video has yet to be released in full for either of her title songs.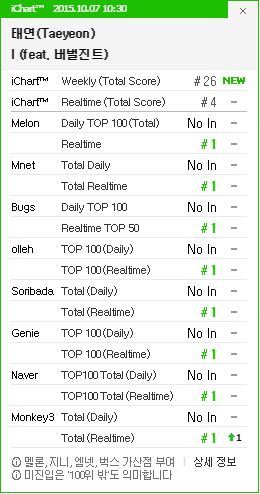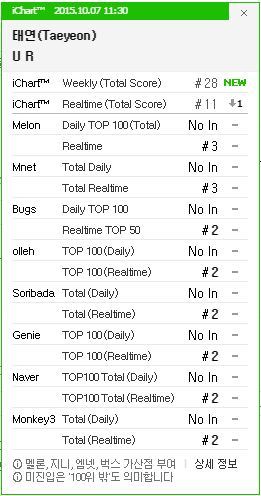 Share This Post