Tao spotted wearing his EXO Cartier bracelet in recent Instagram update
In a recent update to his Instagram account, fans were elated to see Tao wearing his EXO Cartier bracelet.
The bracelet was originally seen in October 2014 through Tao's Instagram following the news of Luhan's withdrawal from SM Entertainment and essentially the group. At the time, he sincerely expressed his wishes to stay together as 10, the bracelet holding 10 diamonds to represent this.
He wrote, "#cartier Diamond Ten diamonds, I hope our remaining ten members continue to stay together like this bracelet, without even one missing..Also, please watch 'Law of the Jungle.'" The post has been deleted since then.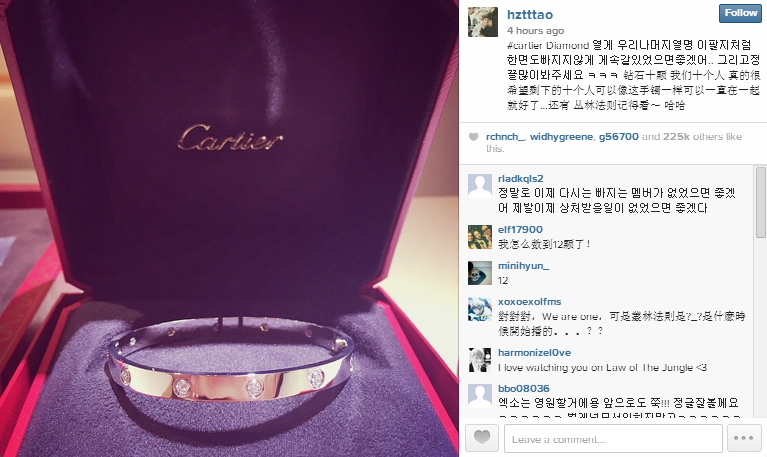 On May 16th, Tao updates from his current stay in Los Angeles, where he is pursuing medical care for his leg and continuing his studies. Looking trendy in his simple outfit of a white shirt, black pants, and red sneakers, EXO-Ls couldn't help but notice the silver bracelet on his right wrist.
Whether it's a sign of his wishes to remain in EXO or not remains to be seen. Either way, EXO-Ls are no doubt happy to see signs of his improving state.
Currently, Tao's status as an SMTOWN artist is still unknown with the last update only revealing that SM Entertainment and Tao's father would discuss the singer's future and activities after his father expressed his wishes in a public letter that he would like his son to withdraw due to his physical health.
Share This Post