#ThankYou2NE1 and WINNER Trend Worldwide On Twitter
#THANKYOU2NE1 and WINNER has been going viral after YG Entertainment's announcement of 2NE1's official disbandment and Nam Tae Hyun's departure from the group WINNER, 
On Nov 25th 2016 4:00 PM, YG Entertainment announced that group 2NE1 has officially disbanded with CL and Sandara Park renewing their contracts as solo artists.
At the same time, they announced that Nam Tae Hyun has terminated his contract with YG and thereby leaving the group WINNER.
Since the news hit, fans all over the world have been expressing their grief and disbelief. However, Black Jacks have begun a touching movement on Twitter where they have thanked the 4 girls of 2NE1 for their amazing songs and the happiness they brought into the lives of Black Jacks. #ThankYou2NE1 is now the 2nd most trending hashtag worldwide.
The word WINNER is also trending on number 6 as the heartbreaking news of Nam Tae Hyun's departure reaches more and more fans.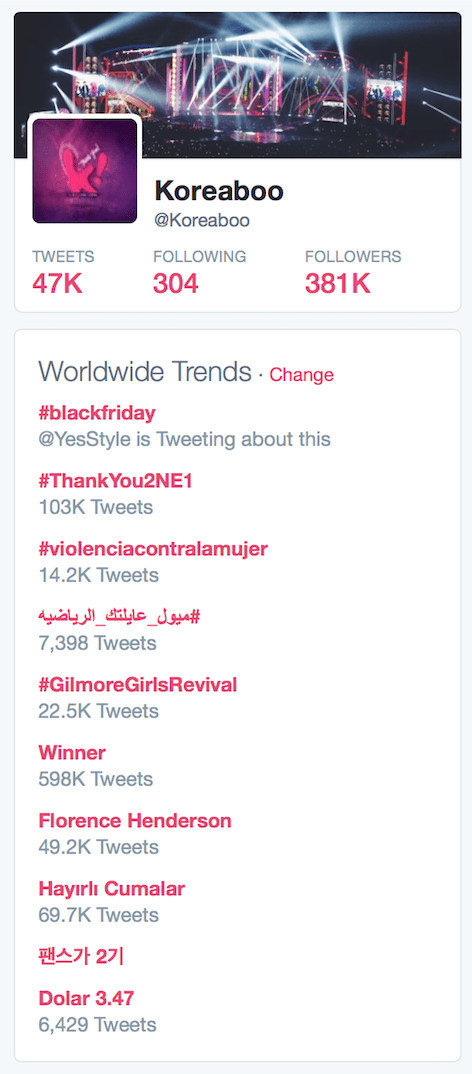 Share This Post