This idol admits he has never weighed more than 130lbs
Zion.T has revealed one thing on his bucket list is to weigh over 60 kilograms (about 132 pounds) at least by this year.
On February 17, Zion.T guest-starred on MBC's I Live Alone and gave viewers a glimpse into his personal life.
In the episode, Zion.T visited a PC café with his childhood friend, now a bodybuilder, and even took off his sunglasses to show his bare face. Since he's rarely seen on camera without his sunglasses, he even compared the act of taking off his glasses as the equivalent of taking off his pants for other people.
At the PC café, they played games and joked around showing how close and comfortable they were with each other. Zion.T's friend even handed him a 2-liter water bottle and told him to fill it up for him. He then jokingly asked Zion.T if he would even be able to lift it on the way back because he was so thin.
They then ate cup ramen together, and again, Zion.T's friend teased him by telling him he needed to work out.
"Stop eating so poorly. Are you eating well these days? How many meals do you eat in a day? You need to start working out this year."

— Zion.T's friend
To this statement, Zion.T revealed to the panel that he had never weighed over 60 kilograms throughout his whole lifetime and that his goal for this year was to surpass that weight. He even stated that weighing over 60 kilograms was something he has wanted to achieve so much that it's on his bucket list.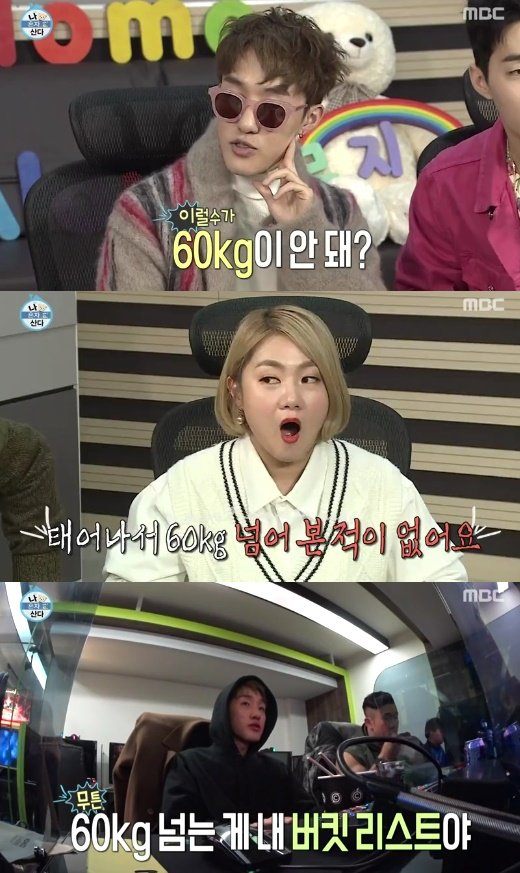 He explained his light weight due to the fact that he rarely feels hungry, and that when he eats, he feels full quite quickly.
Zion.T then asked his friend to help him bulk up, to which his friend scolded him for not coming out to the gym when he had told him to in the past.
Source: My Daily
Share This Post