[★TRENDING] Trash-filled venue after "Infinite Challenge Music Festival" will shock you
With the 2015 Infinite Challenge Music Festival held and completed, photos of the aftermath highlighting the streets and venue has completely shocked everyone.
The festival took place in Pyeonchang Alpensia in Gangwon-do on August 13th at 8pm KST for two hours and drew an audience of more than 40,000 with tickets available on first come first serve basis, attracting people from all over the world.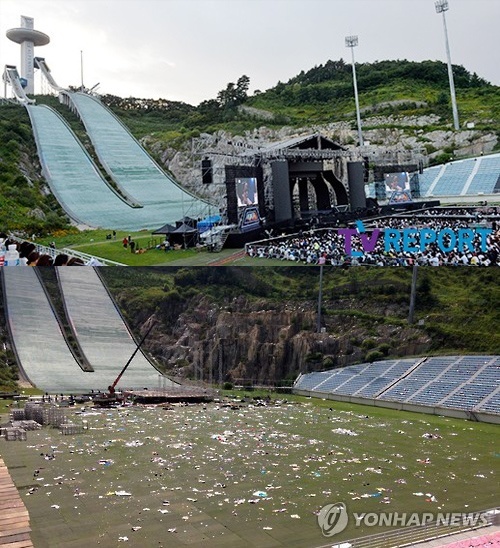 But after the two hour-filled concert came to an end, the venue and nearby access roads were left completely trashed, piles of garbage found everywhere including plastic, paper, food waste, boxes, and even discarded clothings. One resident who was interviewed showed their distaste of the trash left following the event.
YTN News visited the venue after the event the next day and the trash can be clearly seen in the video below:
Kim Tae Ho PD of Infinite Challenge told TV Report that he was pleased that the concert went off without any major accidents and added that the show will take responsibility for cleaning up all the trash at the Pyeonchang concert hall. He continued that a cleaning crew has been scheduled to clean up the venue from all its trash.
Netizens who saw photos of the trash commented:
[+5,748 / -67] This is so embarassing especially during the 70th Independance Anniversary
[+5,051 / -55] Looking at this is so embarassing
[+4,744 / -124] They demanded someone with an upstanding character during 'Sixth Man' but they're the ones who needed it.
[+3,715 / -254] Today, I thought Jeong Mong Ju would be #1
Source: TV Report and Yonhap News
Comments: Yonhap News via Naver
Share This Post