[★TRENDING] Minzy removes "2NE1" tag from Instagram and Twitter
Fans have taken note that 2NE1's Minzy has edited her Instagram and Twitter, removing just one key piece: "2NE1". Netizens speculated on the meaning behind the changes, including the possibility of Minzy's departure from the group; however, Korean media have yet to report on this, as it could simply be just a profile change. 
Earlier in the year, Minzy's Twitter profile read, "God's Lover/Amante De Dios/mingkki/MINZY/2NE1". Now, her profile reads the exact same message without the "2NE1". On Minzy's Instagram, the same change has been made with her username originally being "MINZY21MZ" and now displayed as "_minzy_mz".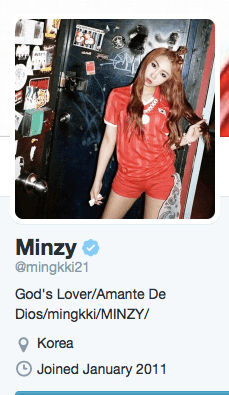 Minzy also uploaded a photo to Instagram three days ago with the message, "Things Change, People Change, Places Change, Friends Change, Careers Change, Economies Change… But God Never Changes." While there is no definite proof this has to do with 2NE1, fans have been leaving messages pleading Minzy to not leave the group.
Take a look at the Instagram photo below:

These rumors arise in light of 2NE1 leader CL's recent announcement that she will be debuting in the US under management of Scooter Braun. Member Park Bom has also been under harsh scrutiny, which resulted in her leaving SBS "Roommate".
2NE1's last activity in Korea was with their second Korean album, Crush, which was released on March 7th 2014. The album sold over 5,000 copies in the US and charted #61 on Billboard 200, breaking two records. The group has been active elsewhere since then, with Japanese promotions as well as an appearance on US show "The Bachelor".
Share This Post