TWICE's Best Moments (So Far) from the 2019 Idol Star Athletics Championships
TWICE makes sure ONCEs have as much fun as they are!
ONCEs who do not want to be spoiled should look away!
---
WARNING: SPOILER ZONE
Although the 2019 Idol Star Athletics Championships is not scheduled to be aired until early February, lucky ONCEs were nice enough to post clips and photos of the girls for those who weren't able to go to the event.
Here's a selection of our favorite moments:
Chaeyoung's outfit gives us major Robin Hood vibes. We could definitely see her following in his footsteps and fighting injustice!
Sana's reaction to Tzuyu scoring a 10 during the archery finals is definitely gif worthy. Sana is no doubt praising Tzusus after seeing her score four 10s during the event.
Talking about Tzuyu, homegirl's reviving that Katniss look by reminding us of "the girl on fire." With her amazing scores, Tyuzu shows that her archery skills are no joke, and that she deserves those Katniss comparisons.
Nayeon decided to host a stretching party with ONCEs, and led them through a series of warm ups during a period of down time. If her smile at the end was any indication, ONCEs impressed her tremendously by giving 100%!
#다현
ㅋㅋㅋㅋㅋㅋㅋㅋㅋㅋㅋㅋ pic.twitter.com/OI3TqElN7U

— 자연과⬜초점 (@Natureandfocus) January 7, 2019
Dahyun doing her best to "conduct" ONCEs in an impromptu dance party was another highlight. We love Dahyun's meme-worthy humor and so glad she doesn't take herself so seriously. She's definitely the Variety Queen of TWICE.
Chaeyoung and Nayeon look adorable in this candid shot of the girls having fun during a lull in activity. Chaeyoung is definitely cashing in her dongsaeng privileges in getting a free piggyback ride!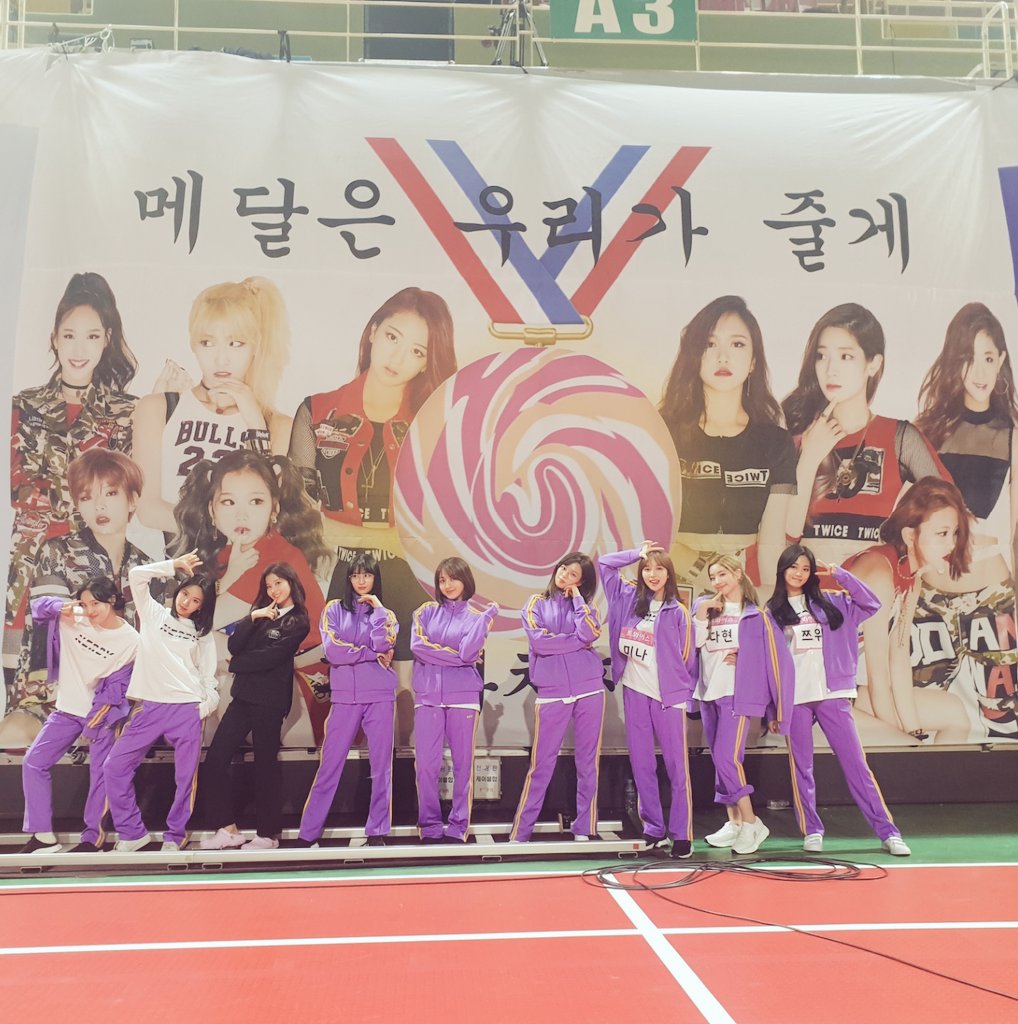 Posing in front of a banner with images from their debut, the girls cheekily do their best to recreate their poses from the banner. A cute nod to how far they've come as a group since their debut in 2016.
All these teases just make us even more excited to see TWICE at the 2019 Idol Star Athletics Championships!
Will you be watching ONCEs?
Share This Post