Twin duo TASTY delivers shocking announcements regarding their activities in Korea
Korean-Chinese duo and twins TASTY has posted a shocking statement on their Weibo recently, revealing they will no longer be active in Korea in regards to their music activities.
On July 15th, the twins wrote the following:
"Hello everybody, we are Daeryong and Soryong.
We are a Chinese group which used the name of TASTY for our Korean debut. We would like to announce through here that our life in Korea of almost 8 years will come to an end. There are in fact many things that we are not able to come terms with our agency, so we made this decision after a long time of consideration. I believe that friends who have always been supporting us will understand. The end of our life in Korea does not mean that our music will also end, we will continuously do our music."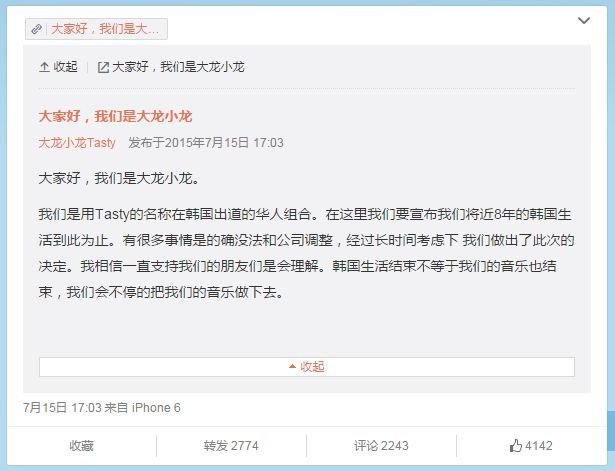 TASTY made their debut under Woollim Entertainment in August 2012 with the album Spectrum, returning with the title track MAMAMA a year later. They last released a single in Korea in August 2014 titled Addiction, which was also released in China a few days later.
No statement regarding TASTY's withdrawal from their Korean activities from Woollim Entertainment has been made yet.
Source: TASTY's Weibo
Share This Post