Verbal Jint Makes Shocking Confession Regarding Drunk Driving on Instagram
Another scandal is shaking the Korean entertainment industry as another artist has confessed to drunk driving to his followers on SNS.
On June 19th at 8:40pm KST, rapper and producer Verbal Jint made a shocking confession to his fans on Instagram and writes, "Hello. I would like to apologize as I am delivering bad news. I want to confess that I was caught drunk driving four days ago with an alcohol blood level of 0.067% near my house. My license is expected to be suspended for 100 days."
"I have no intentions of giving an excuse, and I am in deep reflection about my irresponsibly actions and neglecting the fact that drunk drivers being potential offenders. I do not believe this is a situation that shouldn't and can't be hidden, so I am writing this post which makes me feel ashamed. I apologize once again for showing a disappointing side of myself."
According to media reports, Verbal Jint was caught drunk driving on June 16th at approximately 10pm KST in Mapo-gu, Seoul. At the time, he was recorded to have a blood-alcohol concentration (BAC) of 0.067%. Verbal Jint has confessed to the DUI and has accepted to take part in the police investigation.
In South Korea, drunk driving is described as having a BAC of 0.05% and over. A BAC of 0.05% equals to approximately THREE shots of SOJU for an adult. A DUI can result in the following punishment: Prison for no more than six months OR a fine of three million won ($2562 USD), as well as the driver license's revoked or suspended for a limited time.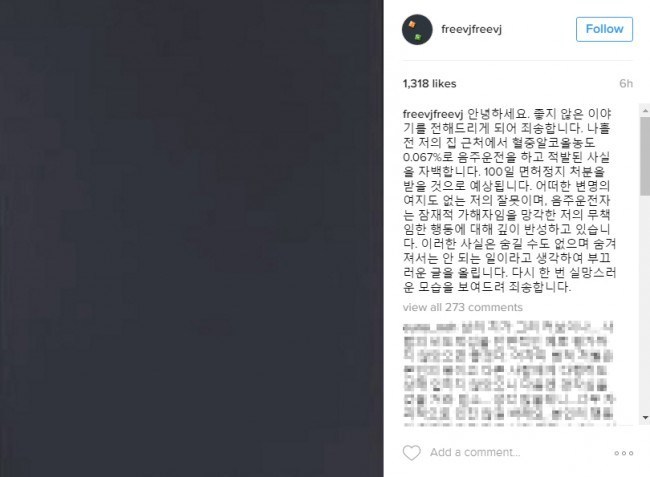 Source: Sports Kyunghyang and K Law Guru
Share This Post