[★VIDEO] "Music Bank in Mexico" briefly halted after fans throw undergarment at EXO-K and B.A.P
KBS Music Bank's latest worldwide tour concert stop in Mexico garnered over 12,000 fans on October 31st. Undeniably successful, the concert still came by its difficulties after it briefly halted following fans throwing their undergarments during artists' performing their stages.
"Music Bank in Mexico" took place in Mexico City, Mexico at the Arena Ciudad, where thousands of screaming K-pop fans enjoyed a stream of performances from some of the hottest stars and idols South Korea has to offer.
Certainly overexcited, fans girls went as far as to throw their undergarments at their favorite idols, particularly during B.A.P's "One Shot" and EXO-K's "Growl" performances, causing the production team to halt filming temporarily to warn fans when it became obvious on the screens, "Please calm down and refrain from throwing your underwear on stage."
Following the warning, EXO-K proceeded to perform "Growl" again for the second time.
They were then quoted saying at the end of the concert, "Although some fans were overly excited, it was great to see fans link arms to create a screen to avoid confusion."
Both B.A.P and EXO-K agreed, "Although it was embarrassing the moment when the underwear began to fly on stage, it was great to see the audience of Mexico's passion."
Other artists who performed that night included BEAST, INFINITE, Girl's Day, Ailee and BTS, with BEAST's Yoon Doojoon, INFINITE's Sungkyu and EXO-K's Chanyeol as the MCs.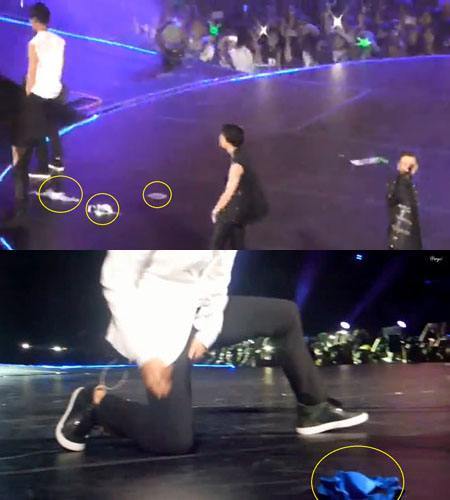 Source: TV Report, Segye, Sports Seoul
Share This Post