This is How Well VIXX's N and 9MUSES's Kyungri Transfer Paper With Their Mouths
VIXX's N and 9MUSES's Kyungri had to transfer a small piece of paper using just their mouths, and their unique method shocked everyone.
All the K-pop was a very popular entertainment program where idols were teamed up to play competitive couple games, such as transferring paper mouth-to-mouth, and eating Peppero Sticks from both ends.
In the paper transferring game, VIXX's N and 9MUSES's Kyungri were teamed up, and they showed a very unique and surprising way that caused everyone to gape in shock and applaud the couple for their success.
First, N picked up the piece of paper and instead of planting it on Kyungri's lips directly (as every other couple had done), he blew it from his lips towards Kyungri's direction. Kyungri then inhaled strongly, which resulted in the paper miraculously landing on her lips.
The whole studio was completely shocked at how it managed to work, and couldn't help but applaud them in awe.
Check out their amazing skill below!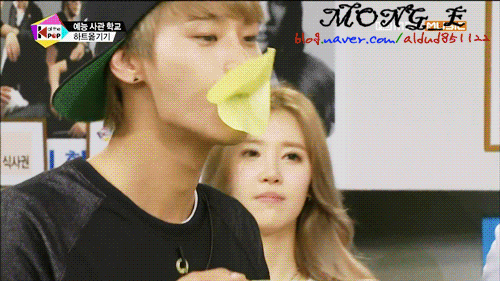 Source: Dispatch
Share This Post