Yoo Seung Jun (Steve Yoo) to reveal the truth behind his exile from South Korea in upcoming interview
Former popular Korean artist and actor Yoo Seung Jun, also known as Steve Yoo, is making headlines after he revealed he will share the truth behind his deportation from the country over a decade ago.
Reaching the peak of his career as a singer in South Korea in the early 2000s, Yoo Seung Jun soon came under controversy after he was accused of evading the Korean military draft that is required of every Korean male. In 2002, the artist became an official and naturalized U.S. citizen thus avoiding his requirement to serve for two years in the Korean military.
Deemed as desertion, he was deported and banned from entering the country and has not entered the country for the last 13 years.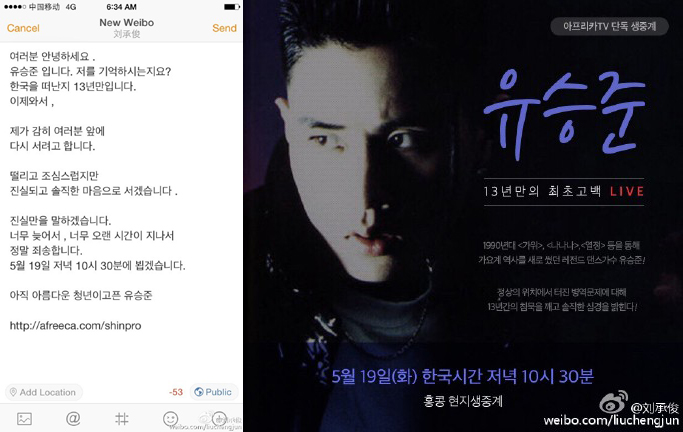 On May 12th, the former Korean star wrote on his Weibo, "Hello everyone. This is Yoo Seung Jun. Do you guys remember me? It has already been 13 years since I left South Korea. Now, I dare to try to stand again in front of you all. I am nervous, but I will be truthful and honest in front of you all cautiously. I will tell the truth and the truth only."
"Because it is so late and that it took so long for me to this, I am sincerely sorry.  I will meet you all on May 19th 10:30 PM. Yoo Seung Jun."
This will be the first time hearing Yoo Seung Jun's side of the story since he left South Korea in 2002. Shin Hyun Won Productions, who will be conducting the live interview on AfreecaTV stated, "The interview will be about Steve Yoo's behind story regarding the evasion of army controversy and his life since then."
Currently, he is active as an actor in China and signed under Jackie Chan's agency since 2008 for 15 years.
Source: Sports Chosun
Share This Post