You'll never guess how old this Produce 101 contestant really is
One of the contestants on Produce 101 is shockingly different from other contestants in this way – his age.
HIM Entertainment's Park Sung Woo was born in 1988, making him 29 at the start of Produce 101 Season 2.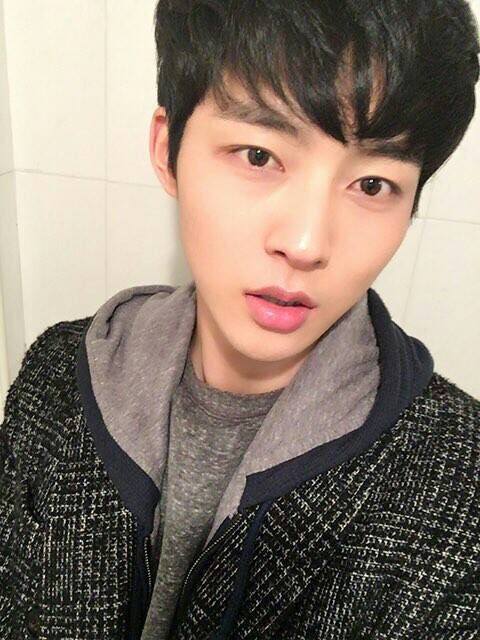 He has also received the nickname "tiptoe boy" as a video going viral video shows Park Sung Woo smiling at the camera and looking down at his feet as he stands on his tiptoes to make himself more visible to the fans at the trainee's guerilla fan meet outside Mnet's broadcasting station.
오늘 프로듀스101 시즌2 남자판 촬영장에서 까치발을 하다 눈이 마주치자 절 보고 쑥쓰럽게 웃어준 소년의 이름을 찾습니다…나 벌써 국민프로듀서 취업했다…이름이 뭐예요..? 기획사이름뭐예요..? #프로듀스101 #까치발소년 #프로듀스101시즌2 pic.twitter.com/M2NuEqyGvl

— 까치발청년의 이름을 찾았습니다 (@ggachiboy) March 9, 2017
As part of the guerilla fan meet, each trainee gave a gift bag including a handwritten note to a fan. Park Sung Woo's showed support for his fellow contestants.
"Hello! This is Park Sung Woo!

This time for Produce 101 Season 2, there are many handsome tall people and very skilled friends!! Compared to them I may be lacking a lot but I will continue to work hard to show everyone my best. I am coming into this with the mindset that this is my last work opportunity and I have a burning desire to close the gap [in skill between me and the other trainees].

— Park Sung Woo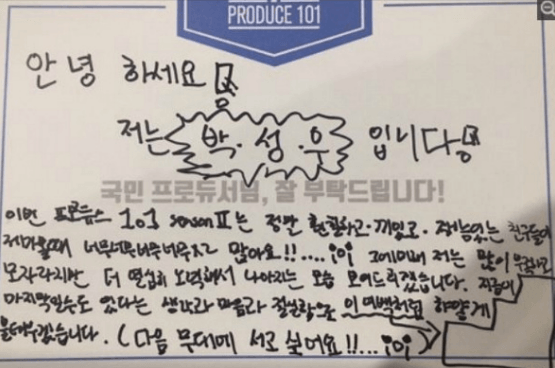 Produce 101 Season 2 will air it's first episode on April 7. Mnet's YouTube channel is gradually uploading introduction videos for each of the trainees.
Source: Joins
Share This Post