Yubin Speaks Up For The First Time Since Wonder Girl's Disbandment
Yubin posted a letter on JYP Entertainment's official fan message board to express her feelings on Wonder Girls' disbandment.
Yubin expressed her gratitude, remorse, and feelings for the future in this heartfelt letter. The letter was very honest and revealing of Yubin's true feelings on the matter at hand.
Read the translated letter below.
"To: WonderFul

Hello my treasured WonderFuls, its Yubin here.

It's 2017 and February is almost over. It's been too long since I've sent my greetings to my WonderFuls…

Your feelings might have been hurt and confused from all of the recent news and I should've been there to take care of you guys. I am sorry…

While I was sending my father 'away' – many prayed for me and took care of me. With the best wishes that my father is taking care of me from heaven, my family is trying to find strength to move on. Thank you.

February 10, 2017, is a very special day and a sad day for all of us. My heart is heavy because I'm talking to you guys because of this news.

With our 10th anniversary running in my mind, so many memories come to mind. I can see a painted road of memories when I think back to my debut in 2007 until this present moment.

I will never be able to forget the continued love and support I received from my WonderFuls all this time. I really won't be able to forget everything and I thank all of you for being with me since the start. It didn't matter the time or place, you guys would be there for me to cheer on and I am eternally thankful.

All I have inside of me is a thankful heart for then, now and the future.

I am sorry to my WonderFuls for causing heartache and not being able to communicate things properly. I lacked in a lot of areas and I feel remorseful about it. I keep thinking back and wishing I had portrayed things better… I just feel sad thinking about it because I realize it's too late now.

From now on, I will be the one who cheers for you guys and helps you.

Thanks to WonderFul and everyone who has loved our music for your endless love and support.

It was a pleasure to meet all of you.

I'll treasure every moment we have shared and would like to send you back to my love and support.

Thank you and Thanks for being so WonderFul.

Once again, I would like to thank everyone who has supported me and taken care of me all this time.  Thank you.

– Yubin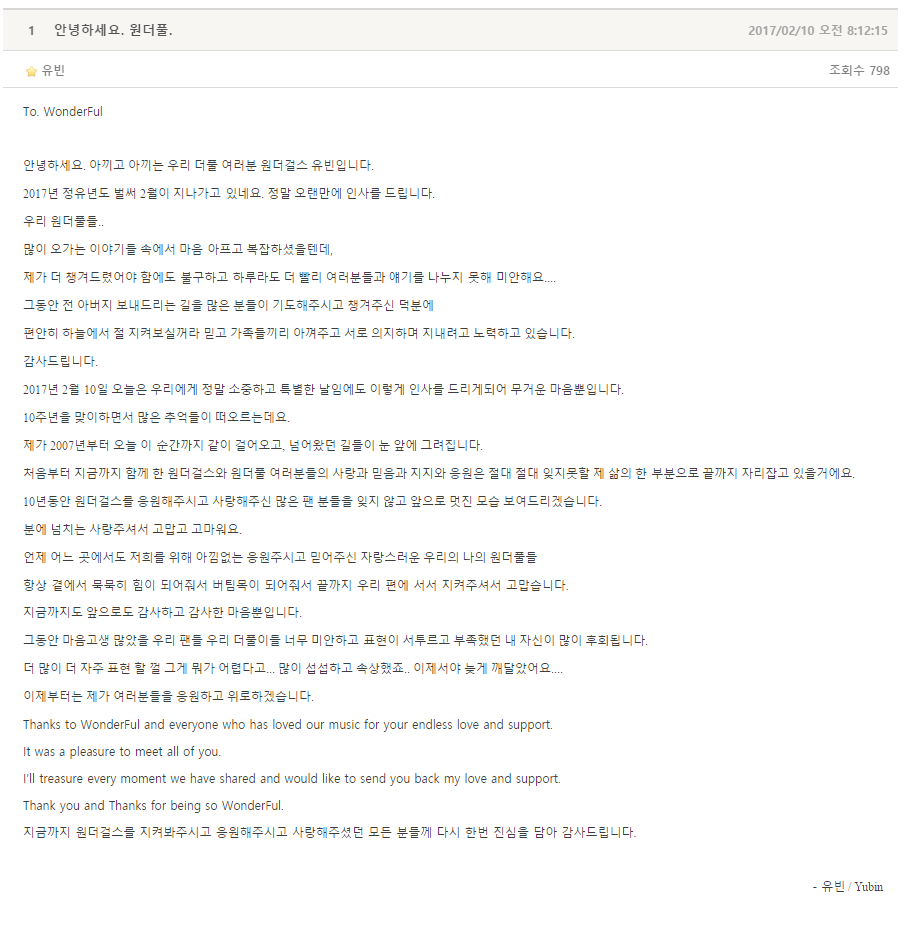 Source: Herald Pop
Share This Post