Z.Tao sheds tears as he talks about his life in South Korea
Z.Tao gets teary-eyed as he talked about his life in South Korea as he makes a special appearance on a Chinese program. Following the release of his first solo album T.A.O in China, Z.Tao has been appearing in a number of music programs, along with talk shows and variety programs.
In a recent guesting, the singer disclosed his life as a trainee and artist in South Korea and revealed that, "I was alone for 4 years and no one around me helped me. I had to do everything on my own." He followed the statement by saying that he missed his mother and family and as the host asked further questions and acknowledged the hardship that was shared, Z.Tao showed tears.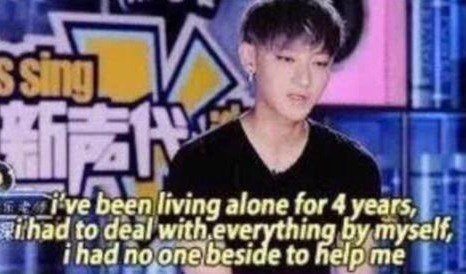 Meanwhile, Z.Tao was initially rumoured to have left EXO back in April as he left for the United States to pursue solo training and choreography rehearsals. Shortly after, the singer was able to establish his own studio and release his first solo album. Since the release of the album, however, a number of fans discussed his lyrics that were allegedly directed towards SM Entertainment and other EXO members.
Furthermore, SM Entertainment recently blocked Z.Tao's music video for copyrights infringement on Youtube as the background music of the track was allegedly a property of the agency.
Netizens, however, expressed a strong reaction over his television appearance and left the following comments:
[ +2,775 / -44] He is completely psycho hahahahahahahahaha
[ +2,526 / -44] You were trying to gain that much without suffering at all?? It isn't only you but everyone who succeeded and people who want to succeed also go through the same thing~~ Yes your were an international member so you must have been lonely but you chose this route on your own.
[ +2,295 / -49] This chink
Source: Herald
Share This Post