Block B Zico responds to being compared to G-Dragon all the time
As one of the most successful idol rappers in the K-Pop world, Zico is often compared to BIGBANG's G-Dragon who is an accomplished idol rapper himself.
Fans have unearth a past interview of Zico by media portal 10Asia that was published last year in February 2015. Not only are the two talented rappers in their own rights but they are similar in that they are both leaders of their respective group and accomplished producers.
One particular question answered by Zico addresses the issue of the Block B leader being compared to G-Dragon.
Read the excerpt from the original interview:
Q. People compare Zico to G-Dragon. They're both rappers, leaders and producers, so they have much in common.
Zico: I seriously don't get why they compare me to him. G-Dragon sunbaenim is too big of a figure to compare against me. He's more than just a musician now, he's an icon. I guess they compare me because we both rap in the group and take care of producing. But still, I feel like it's a stretch. I also feel that our paths are different. Sunbaenim doesn't only rap, he knows how to paint a big picture encompassing music, style and fashion. I, on the other hand, have only pursued rap. I know I may receive attention and popularity by being compared to him, but I don't want that. I wish people would look at me differently.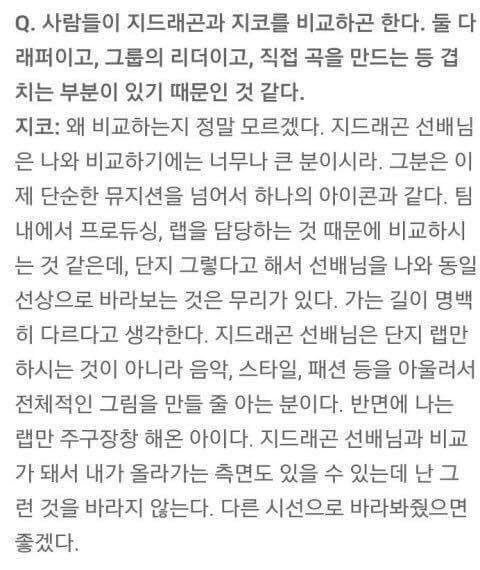 Share This Post