Baek A Yeon explains the reason behind her deletes on Instagram
Baek A Yeon is constantly deleting her Instagram photos. Her explanation as to why was a little unexpected. 
Fans of Baek A Yeon who follow her instagram account have noticed that the JYP singer deleted her past uploads as she was uploading new photos. A peculiar behavior that's no idols are seen doing. Fans were concerned as well as a little disgruntled since this meant that they were not able to access her old uploads.
Recently however, she gave an explanation to why she did this leaving fans free of concern albeit still a little unhappy as this meant they would not be able to revisit old posts.
On her official Instagram account, the JYP singer explained her actions in her latest post. The post translates to "The reason I keep deleting my pictures is….I just want my feed to have only 9 pictures…ㅋㅋㅋㅋ It's just a weird rule I have..? ㅋㅋㅋㅋ hahaha yes..". Netizens commented on how cute and adorable the explanation was.
Baek A Yeon last came back in May with her song "So-so"
Check out her Instagram post below!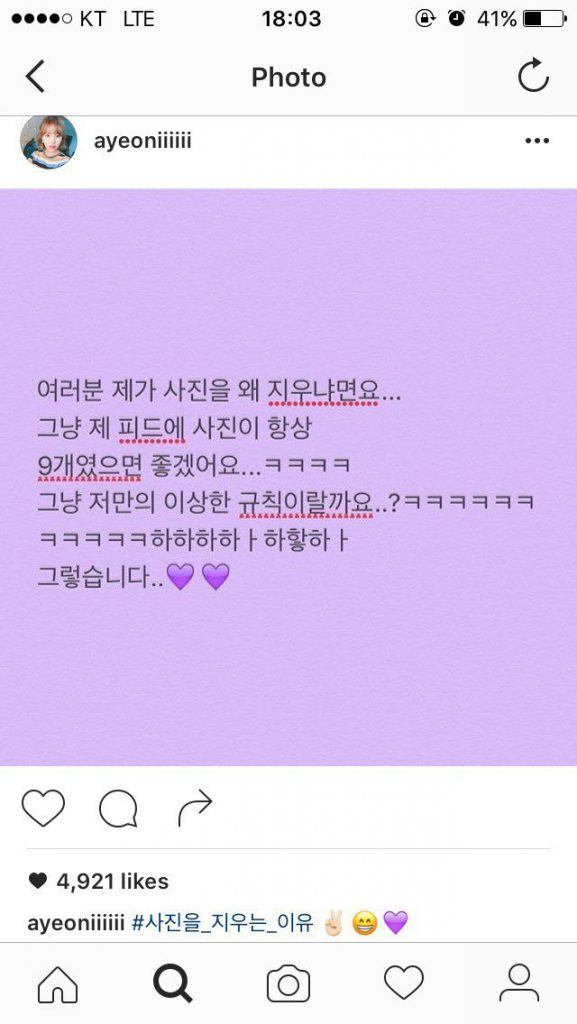 Share This Post