BewhY Reveals He Once Snuck Into YG During High School
BewhY and DinDin revealed on MBC's Radio Star the lengths they went to as fans of BIGBANG's G-Dragon when they were both in high school.
DinDin revealed on the show he had received a huge birthday gift from his fans.  He stated:
When I opened it up, I was surprised to see a box full of BIGBANG goods, including the First Press Limited Edition of their most recent album MADE, the BIGBANG light stick from their 10th anniversary, as well as all of their various light stick designs over the years.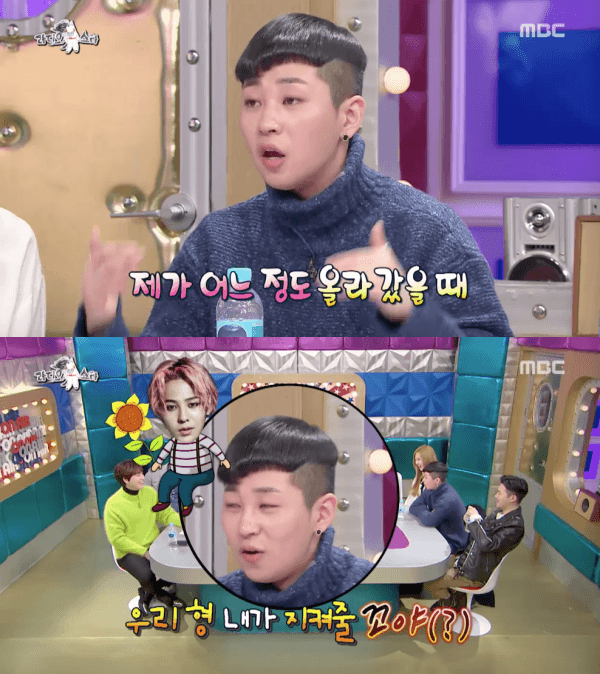 The hosts of the show evoked a good laugh by jokingly stating:
They probably see you more as a famous fan rather than a celebrity!
BewhY added to the topic of discussion by also revealing that he was a huge fan of G-Dragon. He confessed that once, he was so inspired to audition for YG Entertainment after watching BIGBANG perform on stage, that he actually snuck into the YG building. He stated:
When I was in 8th grade, I went to audition for YG, but I had read somewhere that if I wanted to become as successful as BIGBANG, I would have to 'pretend' to have connections. So, in front of the fans waiting outside the building, I pretended to be on the phone with G-Dragon.

I then saw that the janitor had left the door to the building open, so I went in with the ambitious dream of entering YG Entertainment. I went up to the 2nd floor and saw Teddy, and I was terrified. Luckily, a fan had taught me how to open the doors inside the building, so I was able to escape.
BewhY recently shared the same stage with G-Dragon, alongside CL and Okasian at the 2016 SBS Gayo Daejun, performing "1 Million Won," and when asked about this experience, he proudly replied:
I achieved my dream.
Source: Star Seoul TV
Share This Post