BLACKPINK's Jisoo Caught On Camera While Fangirling Hard Over G-Friend
BLACKPINK's Jisoo was spotted on camera for being supportive of G-Friend at the 6th Gaon Chart Awards and her reaction was adorable.
BLACKPINK has proven that they have a strong friendship and incredible chemistry with each other as evident by their adorable interactions. But recently, the group proved that not only can they showed their close relationship within their won group, but with other groups as well.
During award shows performances, cameras will occasionally focus on other idols who watching the show to see how they react. While popular girl group G-Friend was performing their hit song "Rough", the camera temporarily turned to BLACKPINK members Jisoo and Jennie. Jisoo was spotted holding and waving G-Friend's name tag and didn't know she was on camera until Jennie started laughing. Upon realization, Jisoo immediately waved the sign to the camera proving how big a fan she is.
Check out Jisoo's cute reaction here! 
https://www.youtube.com/watch?v=kTnZrj6T434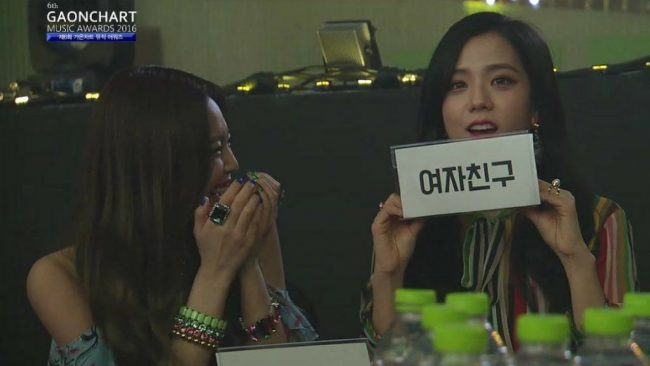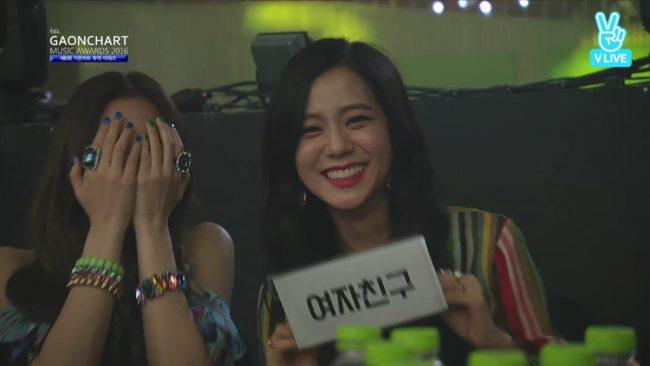 Meanwhile, G-Friend's SinB and Umji have proven to be fans of BLACKPINK as well. Despite the differences in concepts and styles between the two groups, they seem to get together very well and have been incredibly supportive of each other.
Check out their G-Friend's cover of BLACKPINK's "BOOMBAYAH" below! 
https://www.youtube.com/watch?v=pChgaZ13pQU
Share This Post