BTS had the biggest jump in album sales from last year
BTS' success has been skyrocketing, and the increase in albums sold in 2016 compared to 2015 proves it.
One of Big Hit Entertainment's most popular group has gone above and beyond in album sales this year. In 2016, BTS released their repackaged album, The Most Beautiful Moments In Life: Young Forever, and their second full album, Wings. According to the Gaon Music Charts, a total of 1,071,866 physical albums have been sold in Korea between the two albums released in 2016! Compared to last year, this is a huge rise.
Groups with biggest improvements in sales 2015 to 2016:
1. BTS
2. TWICE
3. Seventeen
4. GOT7

— KAS (@kpopalbumsales) December 19, 2016
In 2015, BTS released The Most Beautiful Moments In Life Pt.1 and The Most Beautiful Moments In Life Pt. 2. Combined, these albums sold a total of 477,799 physical copies in Korea. BTS was able to sell over 500,000 more albums than they did last year!
Check out the sale numbers below. Hopefully, BTS will continue to grow in 2017 as well!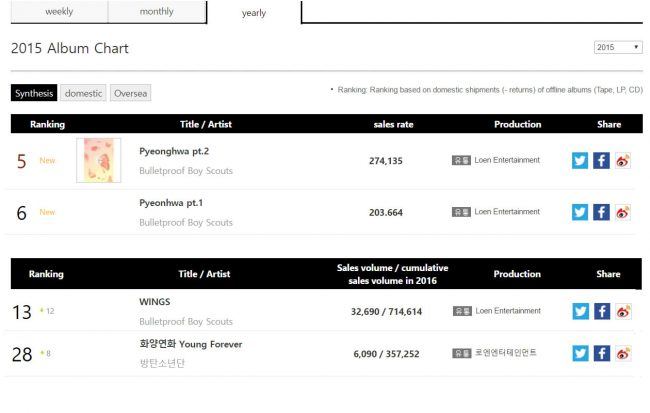 BTS has been selling out shows for their tour, The Wings Tour: 2017 BTS Live Trilogy Episode III. A few shows have been added, so fans are hoping that BTS will visit their city as well. Keep an eye out to see if a show's been announced in your city!
Source: Gaon Music Charts (2015), Gaon Music Charts (2016)
Share This Post