Debut Album Sales Data Shows Which Idols Live Up To The Name Of "Monster Rookies"
Many idol groups have gained the nickname of 'Monster Rookies' due to their highly successful debuts into the music industry. In a chart data compiled by fans, idols show just how truly 'monster' they are with their album sales.
In the chart created below that has spread throughout online communities, it charts and ranks idols with the highest debut album sales while including the year of release and the current total sales. Artists who ranked included EXO, WINNER, GOT7, BTS, TWICE, B.A.P, G-Friend, VIXX and many  more.
First column indicates the artist with the second column giving the number of sales of the debut album during the year of release while the final column shares the current sale total.
EXO-K and EXO-M (2012) top the chart with 145,925 and 87,553 sales respectively during the year of release which has accumulated to 295,680 and 188,624 sales in total currently. They are followed by WINNER (2014), iKON (2015), TWICE (2015), BTS (2013), SEVENTEEN (2013), GOT7 (2014), B.A.P (2012), MONSTA X (2015), VIXX (2012), Lovelyz (2014) and G-Friend (2015).
Singer / Debut Album and Debut Year Sales / Current Total Sales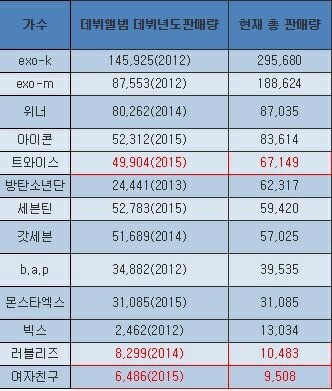 Source: Pann
Share This Post