[★TRENDING] Haha's True Personality Exposed During Recent Documentary
During an interview on a recent episode of MBC's Human Documentary People is Good, Haha provide a bit of insight on his amazing loyalty to his childhood friends.
The episode, which was titled Haha's Infinite Challenge, covered all the challenges he faced while growing up and becoming one of Korea's most popular entertainers.
During the show he revealed secret about his career, including how his health and the health of fellow cast members suffered as a result of filming Running Man for seven years.
But of all his stories, perhaps the one that stuck out the most was how generous and loyal he was to his childhood friends.He introduced his friends Park Geun Shik and Kim Sang Kyun, both of whom had big dreams going up. Haha revealed that Park Geun Shik was an aspiring action star whose dreams were dashed because of a motorcycle accident, while Kim Sang Kyun's hopes of becoming a professional golfer were shattered after he broke his arm in a fall.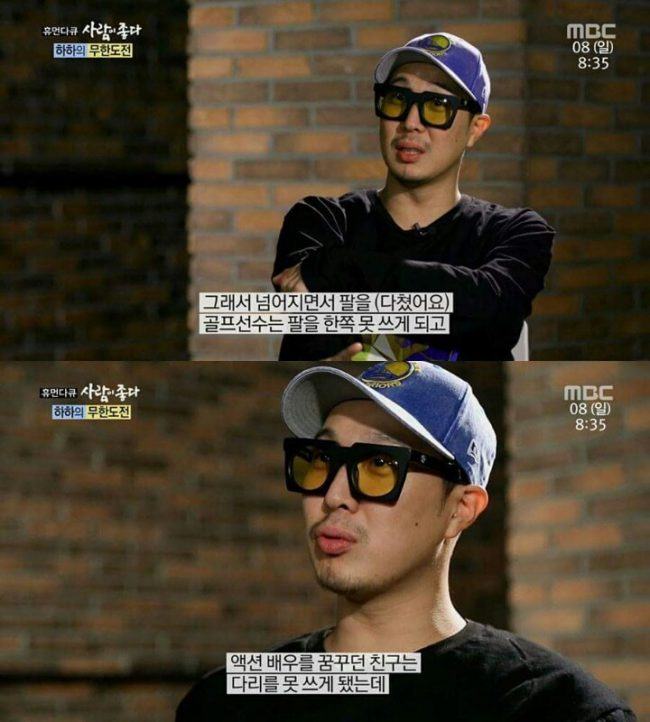 When both his friends were disabled from achieving their dreams due to their injuries, they could not find any jobs to support them. Realizing their tough situations, Haha suggested they all live together and offered to open up a restaurant with them.
Haha revealed:
When everyone around me found out, a lot of them tried to dissuade me. Even Yoo Jae Suk hyung said, "You shouldn't do that." Kang Ho Dong hyung also told me, "You shouldn't do that." Kim Jong Kook hyung also advised me, "You really shouldn't do that."
The restaurant became a success, and all those who advised him against this venture told him that they were wrong not to believe in him.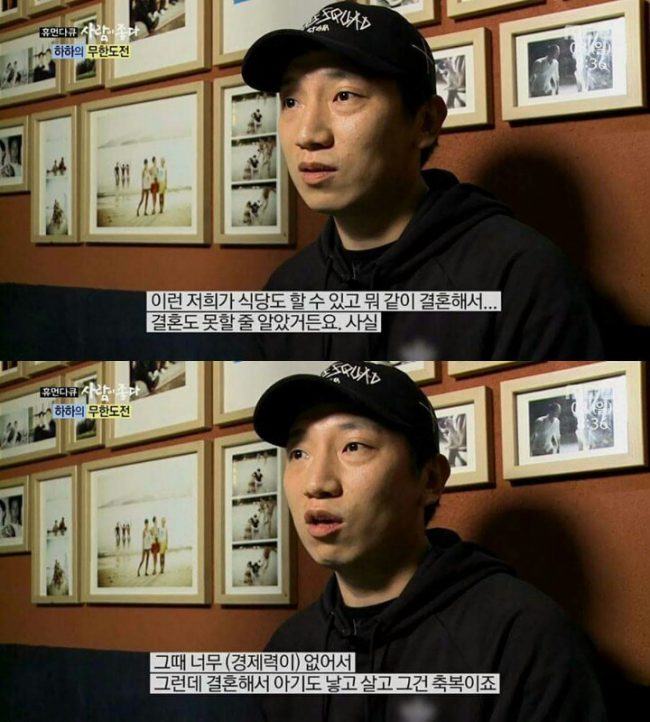 Haha's friend, Park Sang Kyun praised him by truthfully revealing he doesn't think he would have been able to do the same for Haha:
I was so thankful to [Haha] then. Both of us were jobless and we were helpless… Through Haha's help, our restaurant did well, and we all got married. I didn't think I would have ever gotten married if it wasn't for Haha. I thought to myself, if I was in Haha's position, would I be able to do the same? I don't think I could have.
Haha then expressed how he believed he was not the one to help his friends; rather, his friends helped him. During a very dark 2 years of his life, Haha had rebelled and let go of himself, but his friend Park Geun Shik had taken him to a pub for a drink, and later punched him after leading him to the bathrooms.
Haha expressed:
I started wondering, how unruly was I being to make my kind friend want to punch me? It was an epiphany for me. I went home and cried out of sorrow for myself. But I am so thankful for that punch. That single punch changed my entire life
Haha ended the interview stating that although his friends say that he changed their lives, it was the other way around, that it was his friends who helped him through the darkest times and gave him the strength to become who he is now.
Source: Joongang Ilbo, bada TV
Share This Post