Dispatch releases list of idols before/after makeup photos
We've all seen plenty of before and after make-up photos of our favorite male and female idols, but have you seen these seven girl group members and their glowing bare faces?
Dispatch, a Korean media publication, gathered before and after photos of seven of the hottest female idol stars known for their unique make-up styles including Girls' Generation's Tiffany, KARA's Goo Hara, SISTAR's Hyorin and Soyou, f(x)'s Sulli, EXID's Hani, and Apink's Son Na Eun.
The publication's article reinforced the idea of how powerful make-up use can actually be for the enhancement of a person's physical appearance. The article also sprouted the curiosity of many readers who have not yet seen the before photos of their favorites artists.
Many netizens who checked out the article's list of idols showed their distaste and honest opinions towards the photos—some leaving brutal comments and others leaving compliments of the stars.
Check out a few of the before and after photos of the girl group members below: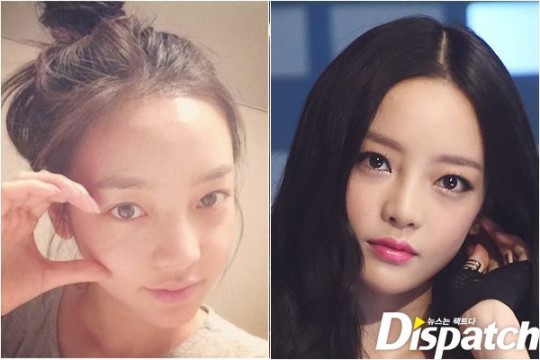 ① KARA's Goo Hara: is known for being the representative of all pure & innocent female idols. Known as "Barbie Goo", the KARA member looks completely pure and charming when she has no make-up on. Her smooth, flawless skin with no signs of acne or scars makes her "no make-up" face much more baby-like and innocent. However, with all the fake lashes and cat-eye eyeliner, she flips a whole 180 degrees into a "sexy Barbie".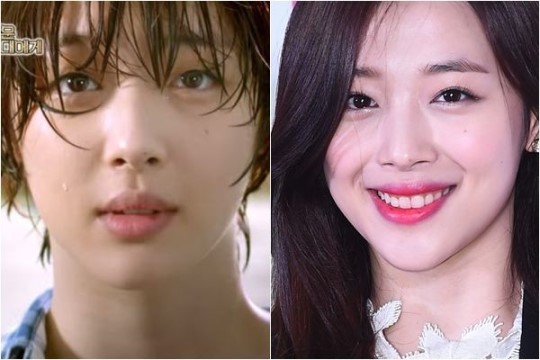 ② f(x)'s Sulli: is widely known for being the "lovely" maknae amongst most South Korean girl groups. Even her nickname is "Sulvely", a combination of her name Sulli and the word "lovely" put together. However, it is seen that the f(x) maknae clearly loses much of her "loveliness" without a full makeover and gains "cuteness" and "charm" with her bare face… although the dark circles tend to cut down the size of her once charismatically huge eyes in half. Once the star puts on a full face of make-up with those rosy pink blushes and glossy lip tints, the lovely "peach Sulli" makes a comeback.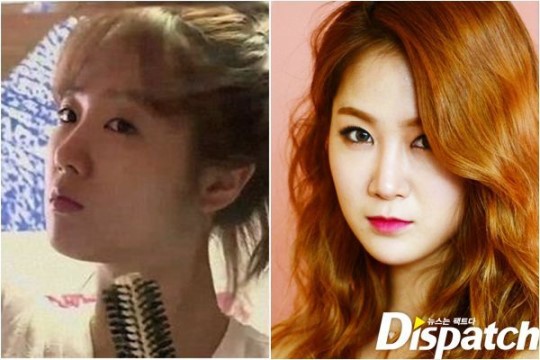 ③ SISTAR's Soyou: is mostly known for her resemblance to a cat with her usual dark, smokey, sexy eye make-up. Though most people see the SISTAR vocalist as a strong, fearless girl, without the make-up she looks just as soft-hearted, fragile, and innocent as a cute baby. Seen in the before shot is Soyou as she wakes up in the morning; her slightly swollen eyes and messy hair bun are charismatic. However, when wearing dark pink lip tints and colored contact lenses with winged eyes, the intensity of her charm triples.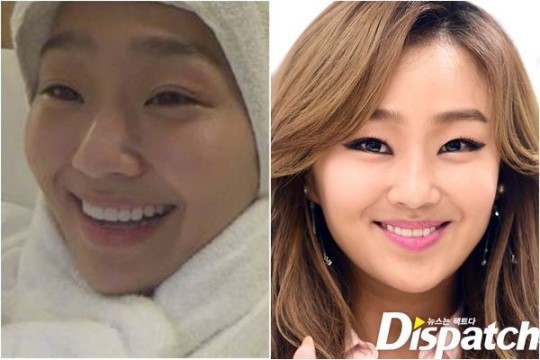 ④ SISTAR's Hyorin: may seem like the sexy and tough diva of all girl groups on the market, but when she isn't wearing any make-up, the intimidating unnie that we all think she is disappears into a thousand little pieces. So where does her sexiness go when she takes the make-up off? It doesn't actually disappear, it's merely hidden behind her flawless tan skin and younger looking face. Before the make-up is a baby-faced Hyorin who radiates with cuteness, and after the make-up is the powerful vocalist we love to see.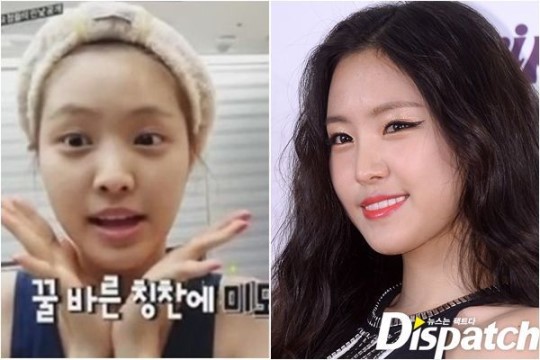 ⑤ Apink's Son Na Eun: is actually known for looking the same regardless of the make-up she wears or doesn't wear. However, if there's one thing that might have changed from her before and after photos, it's the eyebrows that get lighter and less noticeable when bare. Though her eyebrows and lips tend to carry a bland color, the rest of her skin looks pretty flawless and doesn't seem to need any foundation to cover up. Because her eyes are already so big and round, in order to uniquely change her style, her method of eyeliner leans more towards the simple and long "pin-up" rather than the bolder "feline" or "cat-eye" style.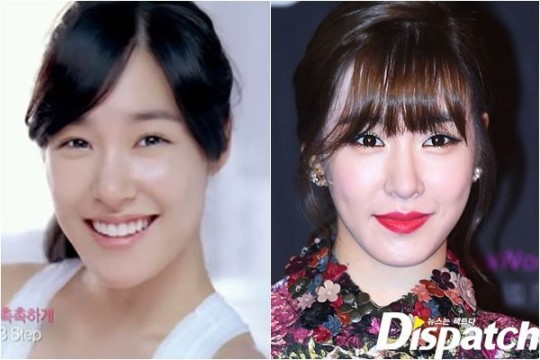 ⑥ Girls' Generation's Tiffany: definitely has a drastic difference in her before and after make-up shots. Before she wears make-up, she displays a very young and subtle natural beauty while her after make-up face radiates a luscious and sexy beauty. In her before shot, Tiffany looks like a very shy student who has a lovely crescent eye-smile. In her after shots, the Girls' Generation member makes you think of a beautiful doll. The red lipstick, which is usually the hardest make-up to pull off, looks extraordinary on this Girls' Generation vocalist.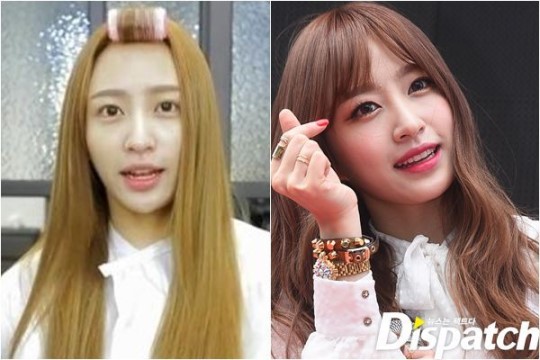 ⑦ EXID's Hani: is the hottest female idol to take over the recent wave of K-pop and is also the final female idol to showcase her before and after make-up comparisons. The doll-like EXID member who is known for being pretty, sexy, and smart can also have negative complexions just like the rest of us. Is that even possible, you say? Well, judging by Hani's before photo, it seems to be pretty clear that she is still pretty flawless. Though it's undeniable that there is something slightly missing in her before make-up shot, the idol star is quick to beautify her appearance with the "luxe" eyeliner and rosy pink lip tint.
Now that you've seen all seven of the idol members' photos, take a look at the top-voted netizen responses, translation courtesy of Koreaboo, below:
[+6212, -216] They claim that these are all before make-up photos, but none of them are of actual bare faces. Kekeke.
[+3611, -131] They also borrowed the strength of extra procedures in addition to using make-up.
[+3307, -216] Tiffany kekekekekekeke.
[+2582, -334] What are we going to do about Hyorin and Son Na Eun? Keke.
[+2090, -104] Man, using bare-face selcas [for this article] is a foul. How can these photos be considered as "bare faces" when they used phone apps and other editing software to fix their flaws~~?
[+447, -52] Hani shouldn't expose her forehead, it makes her face look really long.
[+350, -17] The mentality of this idiot journalist who claims that these "bare" faces used for make-up commercials are their real bare faces… kya~ It's obviously edited to make their products look good.
What are your thoughts?
Source: Dispatch
Share This Post