Fan of Japanese manga artist Ito Junji gives Defconn a horror makeover
On MBC's People of Full Capacity, a fan of horror manga artist Ito Junji, gives Defconn a makeover that sends chills down everyone's spine.
The show typically features ordinary citizens who have special talents or unique skills where they can show off those talents to prove that they are, indeed, people of full capacity regarding a certain topic or hobby.
For this episode, MC's Lee Kyung Kyu, Eun Ji Won, and Defconn visited Japan for the Pikachu festival, taking a glance at plenty of cosplayers and many different manga and anime enthusiasts.
One of the guests from this episode came up to be a Claw Machine fanatic, totally hooked on playing with claw machines to get as many dolls as possible. The other guest, who remained anonymous during the filming by covering her face with a mask and not revealing her name, was a horror manga fan who enjoys making real-life horror sculptures, costumes, and artworks inspired by the famous horror manga artist, Ito Junji. She revealed that ever since she was a kid, she enjoyed watching horror manga and that she almost considers Ito Junji as a deity.
"None of my family members or friends know that I enjoy creating these life-like horror costumes and artwork. I hide all my horror manga books and sculpting tools after every use."
During the show's broadcast, Eun Ji Won shocked everyone by showing some of the works that Ito Junji's fan had uploaded onto her SNS and compared it to the original manga. Many of her work froze the crew on set due to the extreme perfection showed in details. She ended up offering Defconn an horror makeover while she claimed, "I think of faces as a blank canvas for all my manga artwork."
Absolutely impressed by her skills, Lee Kyung Kyu and Eun Ji Won showed their respect for her dedication and talents.
Due to the anonymity, netizens have become very interested and curious to know who this woman could be and have been searching for her SNS to view the rest of her amazing artwork.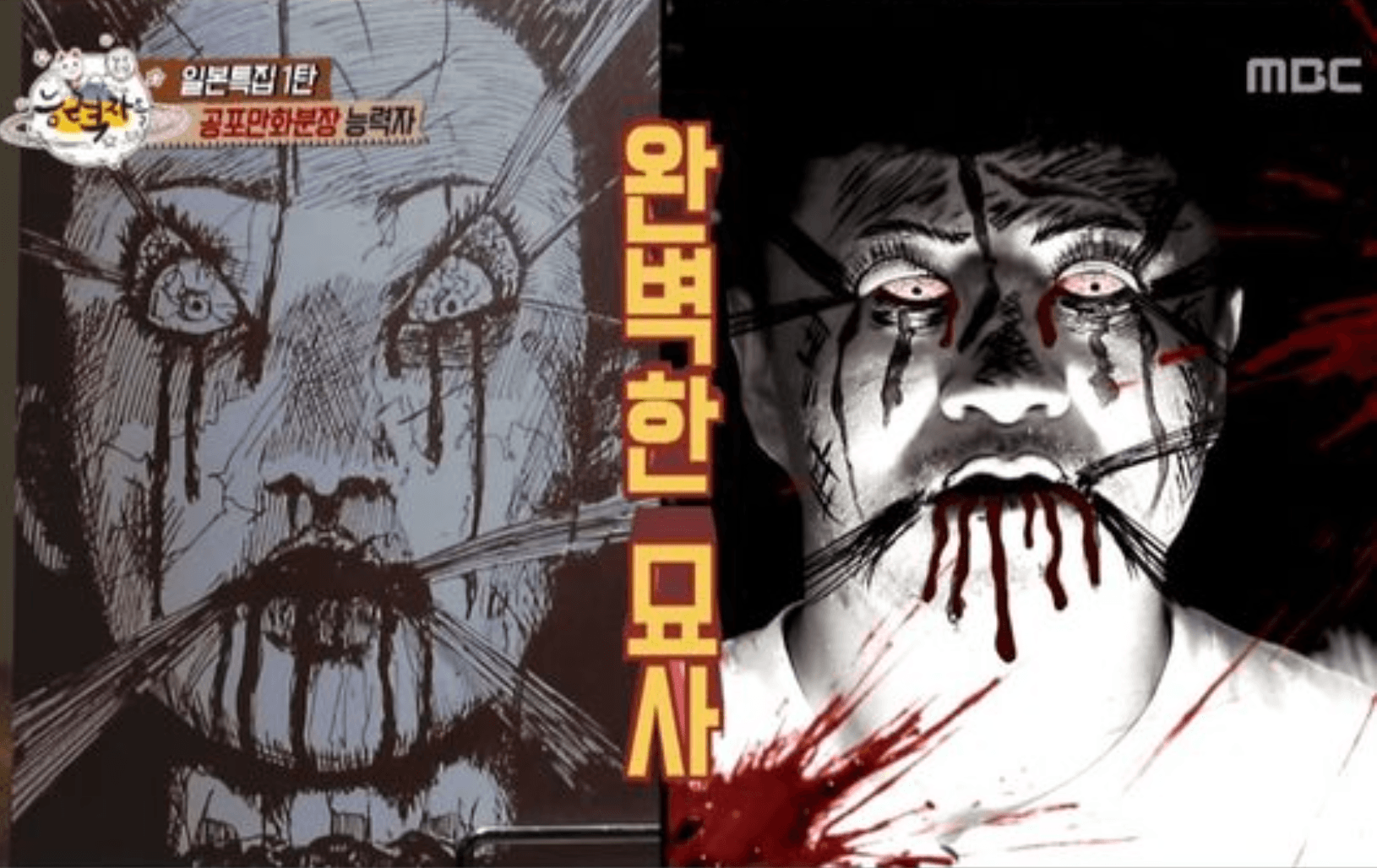 Source: OSEN
Share This Post