Fans Land TWICE One Of Their Biggest Endorsements Ever
While TWICE's latest CF deal with beverage brand Pocari Sweat might just seem like another endorsement, it's a lot more than meets the eye. 
On January 6th, photos from the set of TWICE's Pocari Sweat CF filming in Australia were leaked, confirming speculations that they would be the next models for the brand. As the beverage brand has been known for only casting top trending actresses for their models, it came as a bit of a surprise that they would select JYP Entertainment's rookie girl group as their new brand ambassadors.
But as fans would explain, the story behind the endorsement deal actually dates back all the way to April, when a piece of fan art was submitted to Pocari Sweat. Using a group image teaser from TWICE's Page Two album (from before the album even came out!), the fan edited the colors a bit to create a Pocari Sweat advertisement. The piece of fan art was submitted to Pocari Sweat through Facebook, and the company surprisingly responded with a message.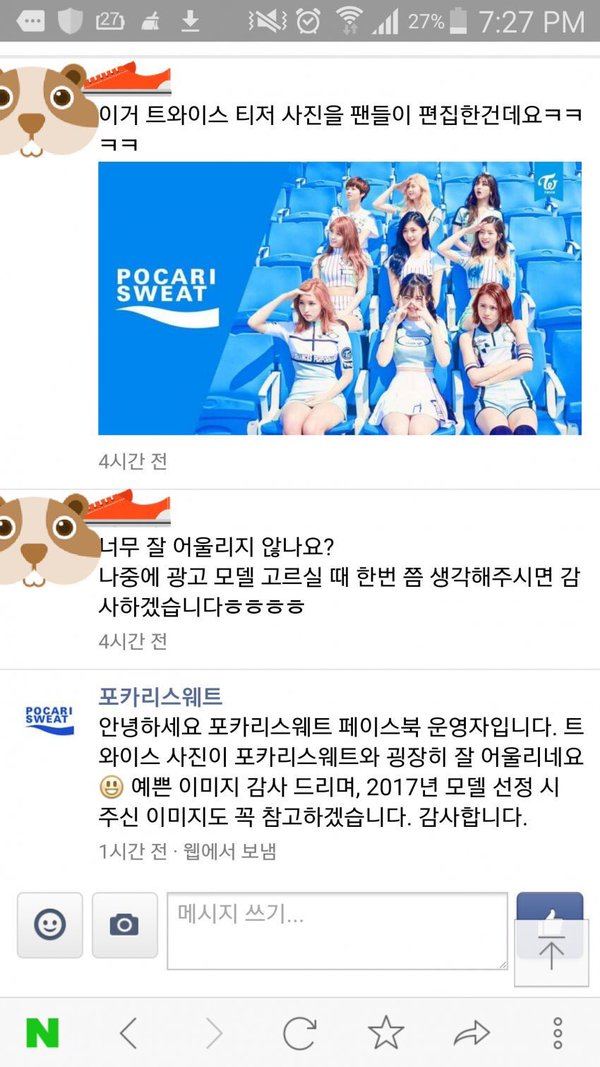 Pocari Sweat's response:
"Hello, this is Pocari Sweat's Facebook administrator. TWICE looks very good with Pocari Sweat. Thank you for the image. We will keep this in mind when choosing our model for 2017. Thank you."
Unfortunately, there's no way to prove how much the fan's edited image affected Pocari Sweat's decision to choose TWICE as their 2017 model, as TWICE's subsequent hit releases "Cheer Up" and "TT" likely contributed to Pocari Sweat's interest in the group.
Check out some photos of TWICE on set filming for the CF: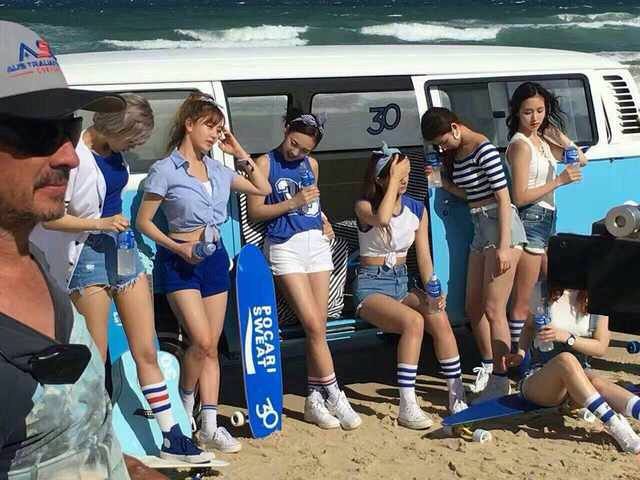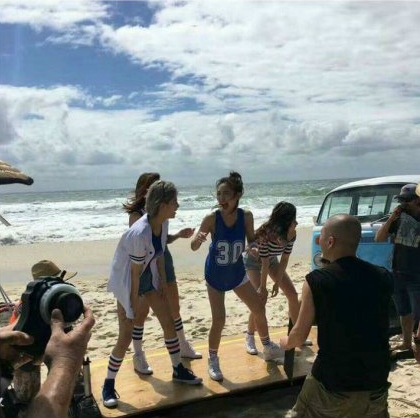 This isn't the first time fans have contributed to TWICE's success. In addition to the usual support that idol groups receive in music sales and YouTube views, TWICE member Tzuyu also went viral all around the world last year when a fan posted a beautiful GIF of Tzuyu. While the GIF hasn't quite earned Tzuyu a shampoo CF deal yet, fans are still hoping that it'll happen later this year.
holy shit this is the most badass dramatic & graceful thing i've ever seen pic.twitter.com/RBUZAC3i3V

— n (@TWICETW1CE) September 10, 2016
Share This Post