This Former YG Entertainment Trainee Never Gave Up After Getting Kicked Out By Yang Hyun-Suk And Now He's One Of The Most Successful Rookies of 2019
AB6IX's Jeonwoong was one of the most popular YG trainees before he was asked to leave
2019 has been an awesome year for rookie groups and Brand New Music's new group AB6IX has continued this momentum, taking their first music show win only 2 weeks after debut!
The 5-membered group stars former members of WANNA ONE, Daehwi and Woojin as well as the MXM duo of Youngmin and Donghyun who also participated in the second season of Produce 101.
While those four members already had name-recognition, when the final member was revealed, many fans realised they had already been familiar with him.
The fifth and final member unveiled was Jeonwoong, who many YG Entertainment fans recognised as one of the most high-profile YG Entertainment trainees.
Jeonwoong was considered by fans as part of the "Silver Boys" that consisted of the male trainees most expected to debut. He was even one of the few YG Entertainment trainees who made an appearance on YG Future Strategy Office.
He also appeared on Stray Kids's debut survival program, as a YG Entertainment trainee during the "YG vs. JYP" battle.
He wowed JYP with his beautiful vocal tone and his acrobatic dancing. When asked, he revealed that he was actually a former JYP Entertainment trainee, being good friends with Bang Chan, the leader of Stray Kids.
I JUST LOVE HOW BANG CHAN & JEONWOONG STARTED MOCKING EACH OTHER#StrayKids #YGtrainee pic.twitter.com/7nibeFLNbD

— mila (@milaennium) November 21, 2017
However, when YG Entertainment aired its debut survival program YG TREASURE BOX, many fans were shocked to see that he was completely absent from the program, with no mention of his name.
After a long absence, fans were shocked but ecstatic when it was revealed that Jeonwoong had been training at Brand New Music. For the first time in months, he was able to explain why he left YG Entertainment.
During one of the monthly evaluations in YG Entertainment, Yang Hyun-Suk … suddenly he called me to his office and said … "After this monthly evaluation, Woong does not need to come to practice anymore."
Given that Jeonwoong had one of the longest training periods, this would have been heartbreaking, considering all the effort he had put in at YG Entertainment.
I really cried a lot then.
However, with all the hard work he had put in during his time at JYP Entertainment and YG Entertainment, he decided to keep on persevering.
Despite the terrible feeling of being asked to leave his company by the CEO himself, Jeonwoong was determined not to give up.
But if I give up, I would regret it for the rest of my life. I'm still lacking but my time hasn't arrived yet. I practised positively with these thoughts.
Jeonwoong found a new home in Brand New Music who supported him while he embarked on improving his skills. But that wasn't the only thing!
In a surprising twist of events, Jeonwoong found himself at the same company as people he used to train with years ago at JYP Entertainment!
Jeonwoong was reunited with Daehwi, Donghyun and Woojin who were all former JYP Entertainment trainees! They were all so happy to see Jeonwoong again and constantly supported him through his endeavours.
Finally, Jeonwoong was told that it was confirmed that he would be debuting in the new boy group AB6IX.
His first reaction was to tell his mother the good news but both of them couldn't hold back their tears.
It's official, I'm going to debut. We'll debut as 5 together … Ah, don't cry.
After so many years of training, drawbacks and waiting, Jeonwoong finally achieved the dream that he had always wanted ever since he auditioned for JYP Entertainment as a kid.
While it was so easy for him to have given up, Jeonwoong never quit and continued to train and improve his skills, even though it was uncertain that he would debut.
Now, not only has Jeonwoong debuted, but he is now a member of one of the biggest "Monster Rookies" of 2019.
AB6IX have surpassed 100,000 sold copies of their debut mini-album B:Complete and they are the fastest of all debuted artists in 2019 to have reached this feat.
As the main vocal, Jeonwoong has garnered praise for his singing voice. Not only can he hit the high notes with ease, but his husky vocal tone conveys the emotion of the song.
While Yang Hyun-Suk asked him to leave YG Entertainment, Jeonwoong has found a new family at Brand New Music who constantly shower him with love and affection.
His new CEO, Rhymer in particular, has constantly shown how much he treasures having someone like Jeonwoong under his company.
When I was looking at him today, I could really see it in Woong's eyes. His singing and performance, he's got a charm that the other four kids don't have. A sexy charm.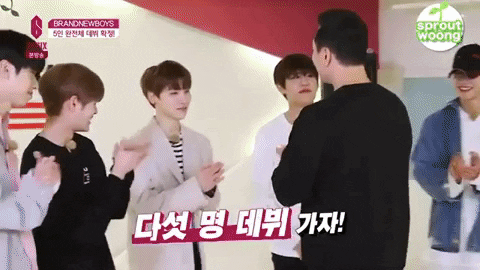 Jeonwoong is flourishing as the fake maknae of the group and AB6IX is set to continue their success.
Life unfortunately doesn't go the way we plan or expect it to.
But Jeonwoong's courage and tenacity shows us that no matter our challenges or hardships, there is always a way to overcome this if we are determined to do so.
Share This Post