How To Attend A Fansign And Meet Your Favorite K-Pop Idols
A detailed guide on meeting your bias.
Perhaps the best place to meet your favorite idols face-to-face is through a fansign event.
At these events, idols can sit down and talk to their fans while signing their albums.

Fans familiar with these events may also recognize that the best photos of idols come from fansigns because they always wear fan gifts and do silly poses. 
If you're ever in Korea, a fansign is a must-do, and here's exactly how to attend one! 
(While artists may also hold fansigns for brands they endorse, most fansigns are for music releases, so this guide will go over these types of fansign events.)
Step 1: Find A Fansign To Go To
Artists will typically hold fansigns within the first 2-4 weeks of their comeback or debut. Fansigns will usually be announced on their fan support Twitter and/or their official fan cafe.
[2017.05.21] TWICE Mini Album <SIGNAL> 팬사인회 안내
[Fan Autograph Session : SinChon] Application https://t.co/F42wOEQ1eN

— TWICE_Supporters (@TWICE_SUPPORTER) May 16, 2017
Step 2: Find Out The Details
Generally, there are two types of fansigns, first-come-first-serve and lottery-based. Both will only allow each fan to win one entry to the fansign event.
1. First-Come-First-Serve
Typically used by rookie groups or group from smaller companies, the first fans to buy a single copy of the album will be able to participate in the fansign event. The limit of fans ranges from 80 to 200, but 100 is the most common.
2. Lottery-Based
Most groups hold their fansign events on a lottery-based system. Fans who purchase albums at will be entered in a raffle, and a specified amount of fans will be able to attend a fansign. The more albums you buy, the more entries into the raffle you will get, so the higher your chance of being able to attend the fansign.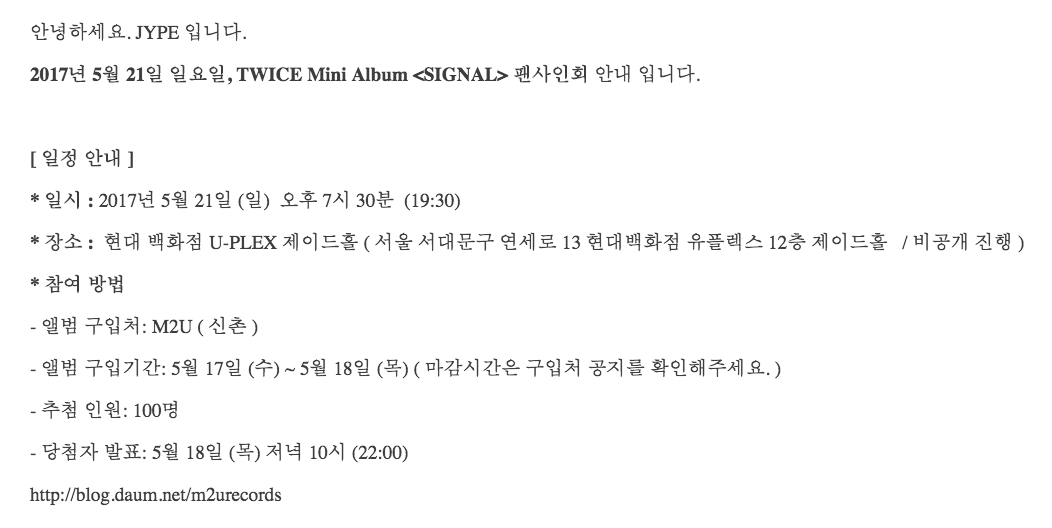 Hello. This is JYP Entertainment.

2017 – May – 21 – Sunday, TWICE MINI ALBUM <SIGNAL> Fan Sign Announcement

[Event Details]

*Time: 2017.May. 21(Sunday) Evening 7:30PM (19:30)
*Location: Hyundai Department Store U-PLEX Jade Hall.

*How To Participate
– Album Purchase Location: M2U (Shinchon)
– Album Purchase Dates: May 17 (Wednesday) – May 18 (Thursday) (For closing time, check location notice board.)
– Winner Limit: 100 People
– Winner Announcement: May 18 (Thursday) Evening 10:00PM (22:00)
Step 3: Buying Albums
If the fansign you're trying to attend is first-come-first-serve, then you're safe! Just rush to the correct location and buy your single copy (make sure to fill out your name on the form).
But if your fansign is lottery-based, make sure to do your research! While fansign lotteries are random, if you buy a certain number of albums, you should have a relatively "safe" chance of being selected. For example, to enter TWICE's Signal album, fans bought from 40 to 50 albums.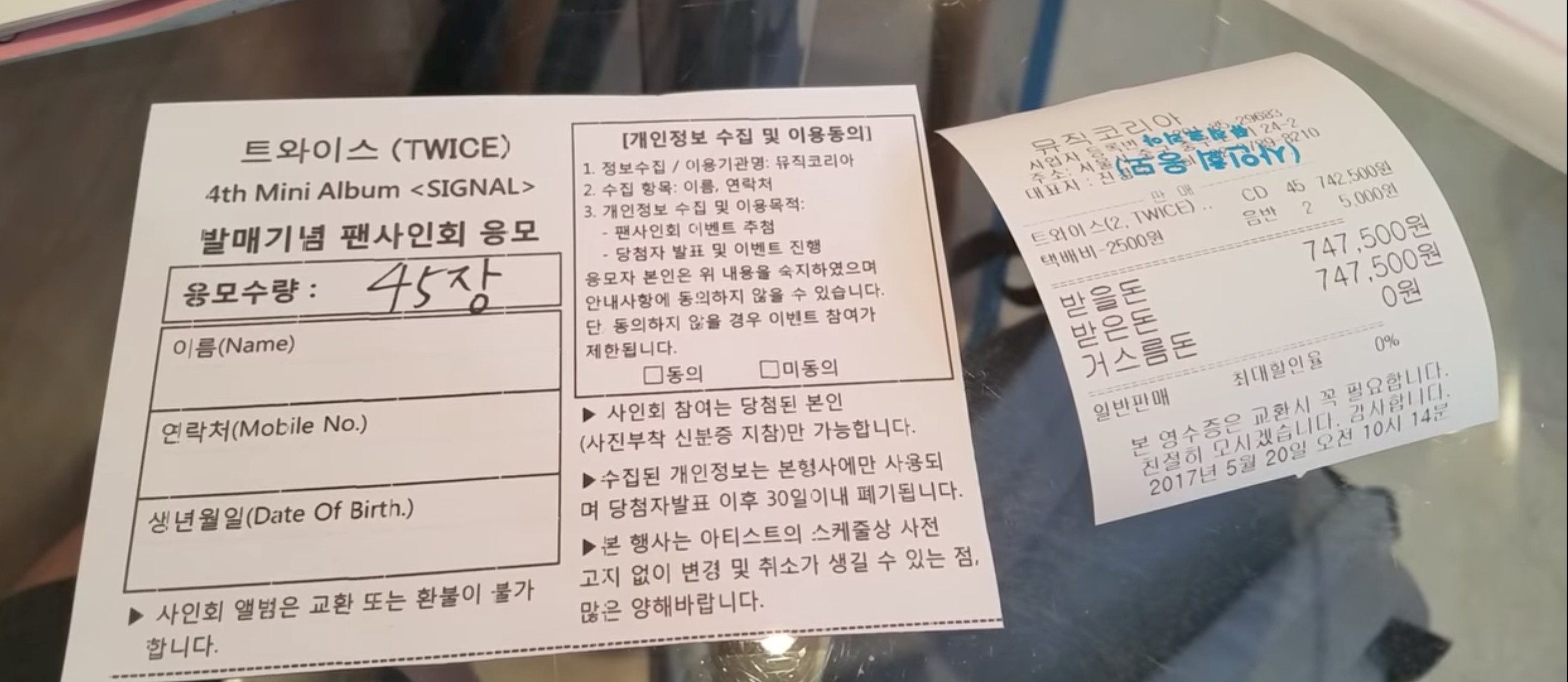 Step 4: Waiting For The Results
The results are usually announced on the evening of the last day to buy albums.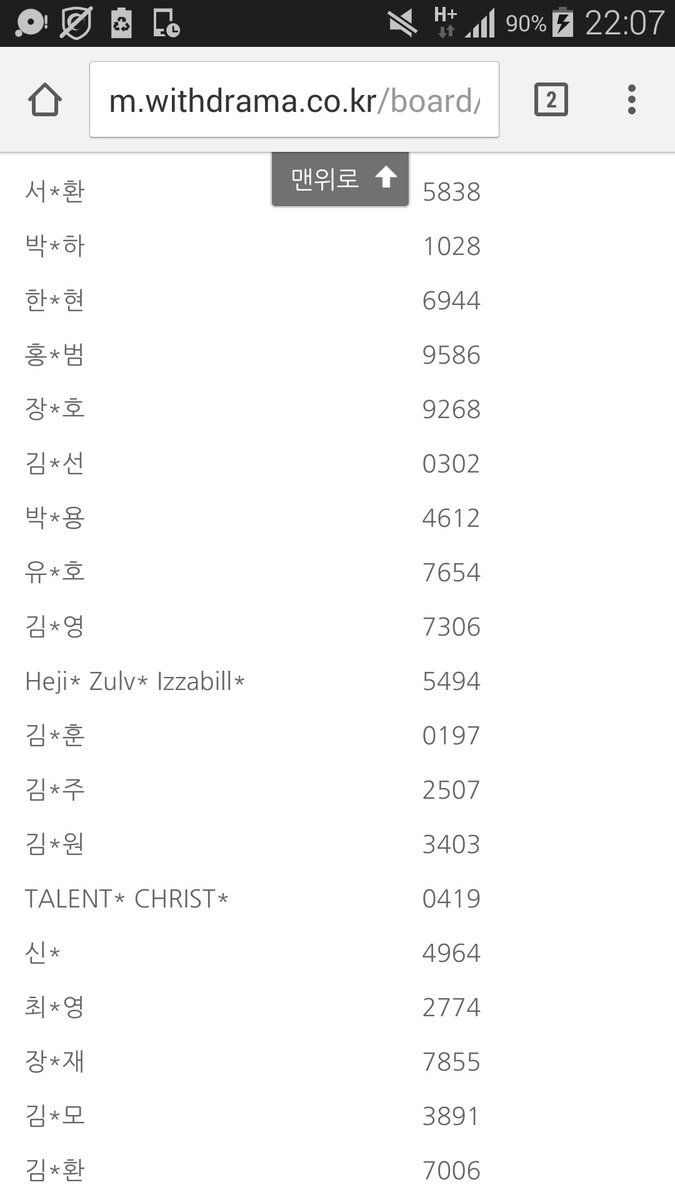 Step 5: Follow The Rules
Believe it or not, fansign events have a lot rules that fans need to follow. Depending on the artist and venue, rules may be looser or stricter.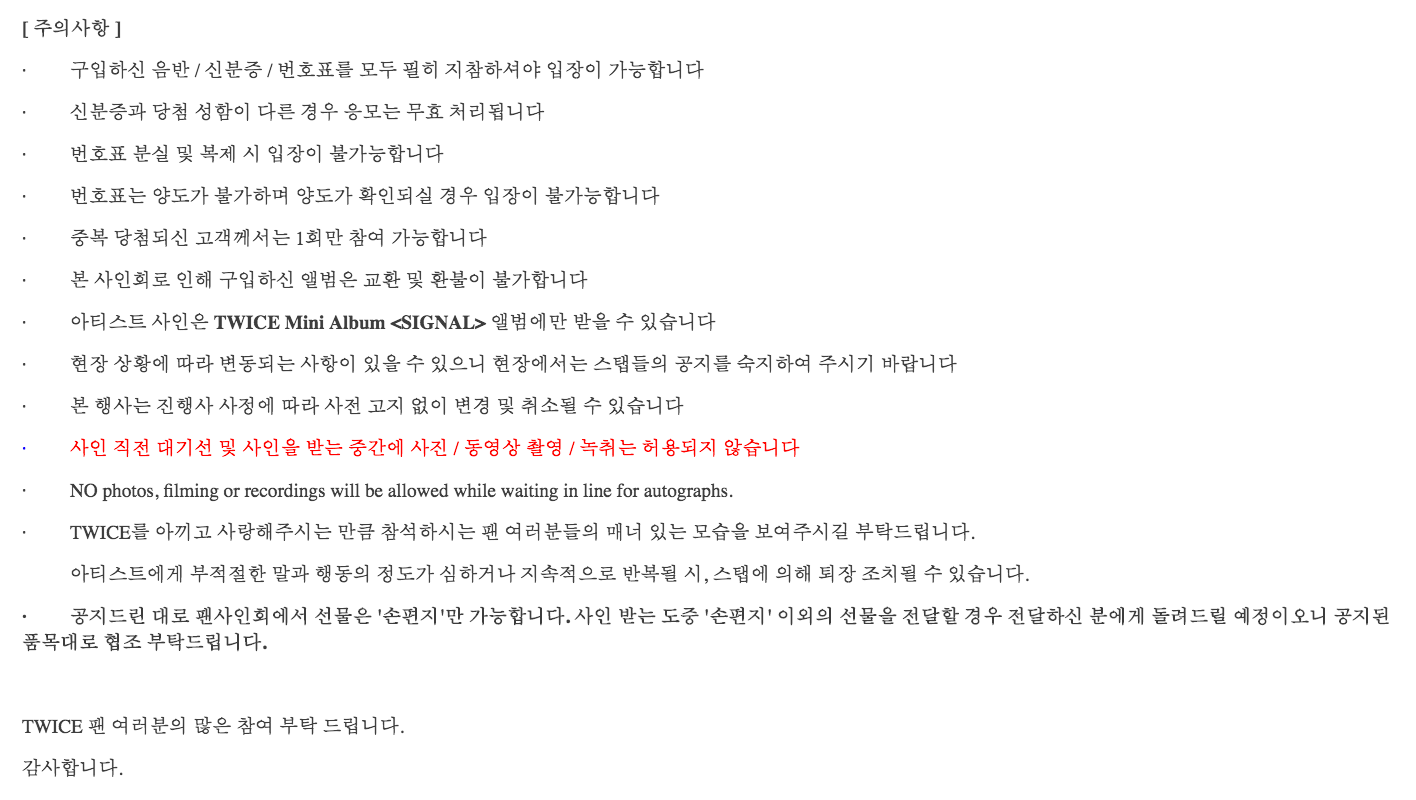 [Precautions]

– You will only be admitted if you bring your purchased album, personal identification ID and your number tag.

– If your personal identification ID's name is different from the chosen person – the winning result will not be valid.

– If you duplicate your number tag, entrance will be restricted.

– You cannot transfer your number tag, if it is found out that you did, entrance will be restricted.

– For people that got chosen twice, entrance will be granted only once.

– The albums you purchased for the fan sign event are non refundable and can't be exchanged.

– You can only receive the artists' autographs on your TWICE Mini Album <Signal> album.

– Due to unforeseen circumstances, there is the possibility of changes during the event. Please pay attention to the staff announcements.

– Due to unforeseen circumstances, the event can be cancelled or rescheduled with no early notice.

– While waiting for autographs, it is forbidden to take videos or photos.

– Since you treasure and respect TWICE, please exercise manners during the event. If you act questionably, you will be warned and anyone who is warned multiple times will be escorted by staff and removed from the event.

– According to the announcement, the only gifts that are allowed are handwritten letters. If you are caught giving other things during the gifting session, your gift will be returned. Please cooperate with the announcement.

TWICE fans please participate in this event!

Thank you.
Step 6: Deciding What Pages To Get Signed
Each member will only sign one page of your album, so be careful when you pick which page you want them to sign!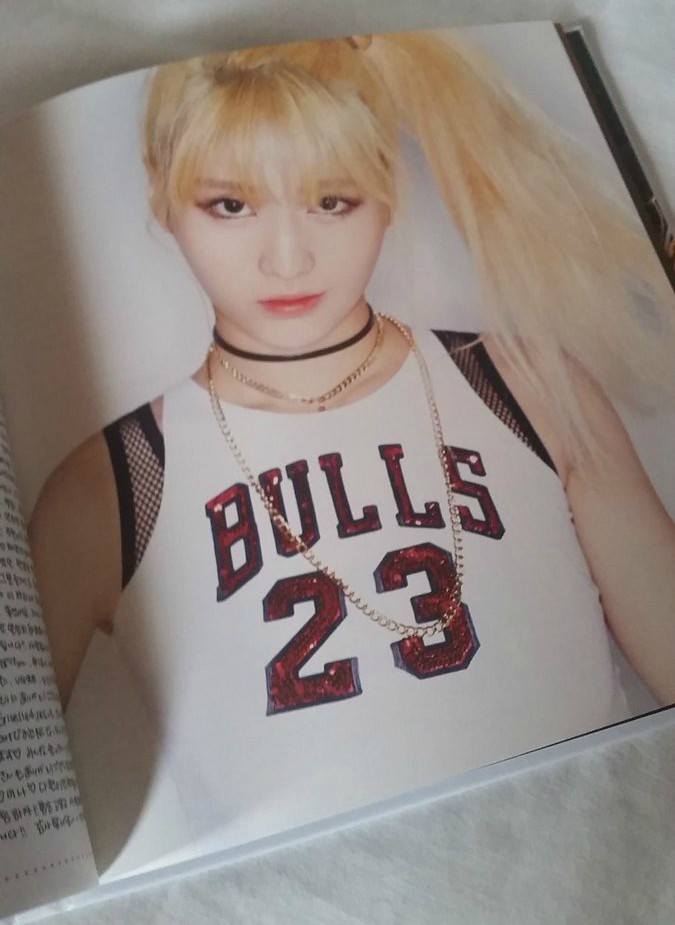 Step 7: Bringing Gifts
Many fans write letters to their idols, while other bring them gifts. While some idols don't keep fan gifts (TWICE, for example), most will at least play with them and wear hats/headbands for photos. But be careful when you read the rules! (Red Velvet, for example, won't allow any gifts at all!)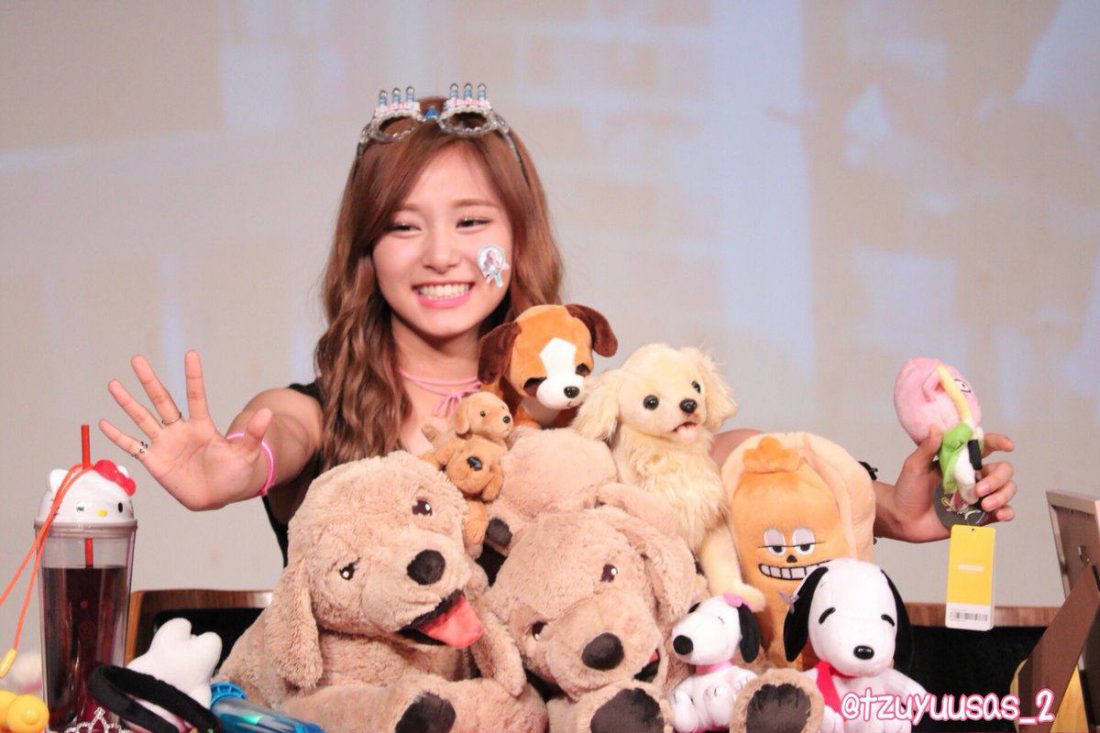 Step 8: Have Fun! And Take Lots Of Photos!
They might be a little complicated and costly, but they're definitely worth it! Make sure to treasure every second!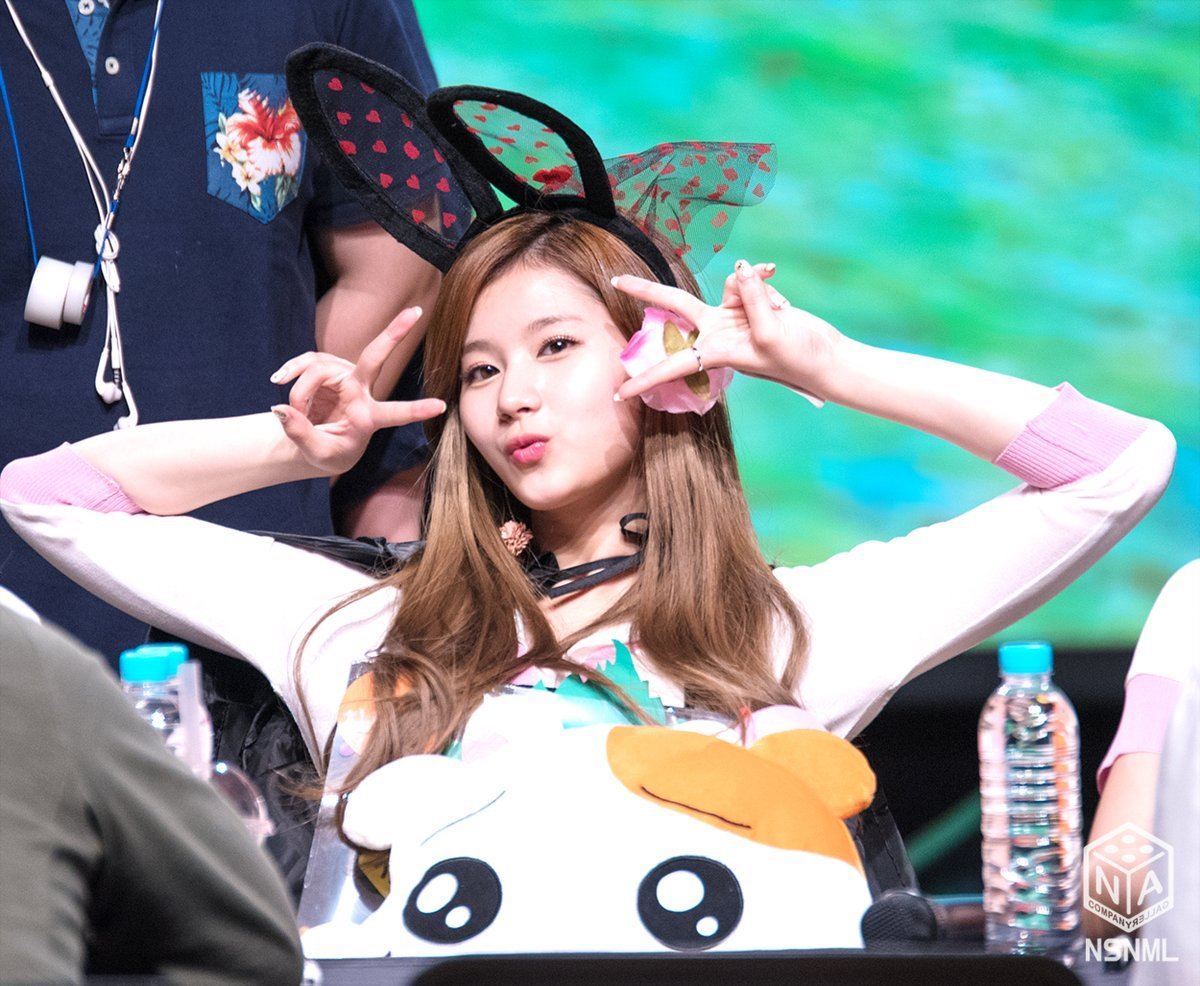 Step-by-step Instructions by YouTuber SQ K-Pop:
Share This Post