GOT7's Youngjae meets Elliot Yamin and Sanjoy all thanks to his fans
Youngjae recently got a chance to connect with American Idol singer, Elliot Yamin, thanks to one Instagram post and the support of his fans.

It all started two days ago when GOT7's Youngjae posted a picture of him listening to Sanjoy's new song "Obvi" featuring Elliott Yamin. He captioned the post, "Yamin Hyung, please release an album."
https://www.instagram.com/p/BPyXI5zjZ6o/
It didn't take long for GOT7 fans to flood the page tagging Elliot Yamin and Sanjoy in order to get their attention. Elliot noticed the messages and commented on it immediately, thanking everyone for their immense support and responding back to Youngjae.
Elliot also tagged Sanjoy and the two began connecting with Youngjae on the Instagram post, with fans watching the whole interaction go down live!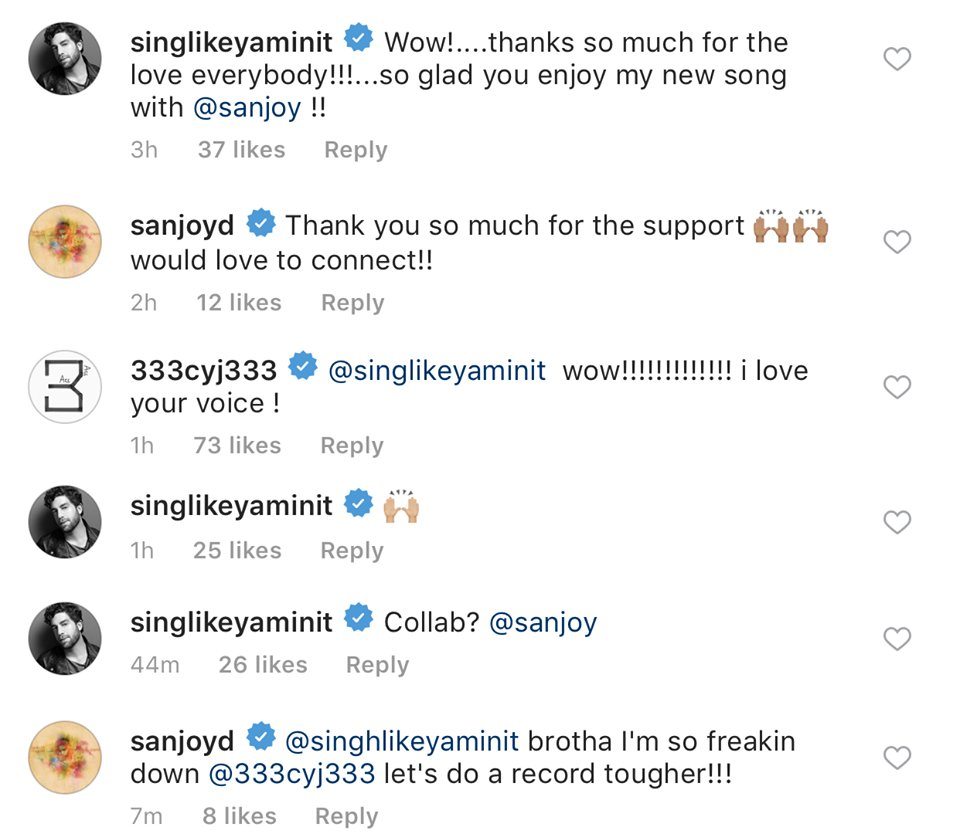 The comment chain that started it all.[/caption]
Excited by the interactions between Youngjae, Elliot and Sanjoy, GOT7 fans started posting clips of Youngjae singing and tagging the two artists. It definitely worked, as Sanjoy replied back to multiple fans and told them that he "would love to work with [Youngjae]" and that he was "trying to get in touch" with GOT7's management.
i sent elliott & sanjoyd videos of youngjae's "친구의 고백" and "1:31 AM" performances, they're trying to contact got7's management! ㅠㅠ pic.twitter.com/TL2hBxnfEM

— mich ♡ 👼🏻 김종현 (@wangjckson) January 28, 2017
Lucky, GOT7 had a scheduled fan meet in Los Angeles with concert organizers SubKulture on the next day, on January 29th. When fans notified Sanjoy of this, he commented on Youngjae's airplane selfie post and told him that he wanted to hang out.
Sanjoy messaging Sungjae to meet up on his Instagram.[/caption]
Youngjae then tagged Elliot Yamin again and asked him if he would like to come to the show, to which Sanjoy responded that he'd love to! 
Youngjae invites the two artists to his show![/caption]
The artists were able to all get in touch after these messages. Elliot and Sanjoy were both spotted at GOT7's fan meet, uploading photos to their Instagram. Youngjae gave them a shout-out on stage and shared how happy and thankful he was that one of his favorite singers was in the audience to watch his show.
Youngjae also told fans about how he had actually passed the JYP audition by singing one of Elliott's songs. When he was asked to sing something, Youngjae sang a beautiful short rendition Elliott Yamin's biggest hit, "Wait For You."
Youngjae fanboying after Elliot, hes so greatful and happy IM CRY #TURBULENCEinLA #TURBULENCEinUS #GOT7 #Youngjae pic.twitter.com/lXXIhuhDLp

— Domo•💎Jonghyun💎 (@doublebammie) January 30, 2017
Sanjoy and Youngjae both posted videos and photos to their Instagram accounts with the three of them hanging out backstage. Elliot in particular was so incredibly thankful to all of GOT7's fans for making the meeting happen. It's no doubt the two American artists have found out how popular K-Pop artists are, thanks to I GOT7's!
https://www.instagram.com/p/BP4IASVjI6q/
https://www.instagram.com/p/BP4HxOIj99v/?taken-by=333cyj333
Elliot then went on to tweet a link to Sanjoy's song, which he features on, along with the caption, "Let's get Youngjae on this!". It looks like the three of them are definitely in talks to do a collaboration song together!
Let's get Youngjae on this! @sanjoyd #obvi #sanjoy #elliottyaminhttps://t.co/gt7vKRSo5H

— Elliott Yamin (@elliottyamin) January 30, 2017
❣️BONUS: Watch Bambam's adorable fan service at their LA Concert below!
Watch GOT7 take selfies using this lucky fans phone <3

Posted by Koreaboo on Sunday, January 29, 2017
Share This Post