Heechul Scolds Rookie Idols Who Think They're Too Popular
Super Junior's Heechul shared his thoughts about how junior artists should act and their manners while at a concert.
Super Junior's leader, Leeteuk, once reminded rookie artists to remain humble. But did you know that some of the most popular Korean artists are apparently not good at greeting their seniors? This statement came from fellow Super Junior member Heechul when he appeared as a guest at Kang Ta's recent concert.
During the talk segment, he talked about his appreciation for Kang Ta as a senior. He also mentioned the stage manners of their juniors in the industry and stated, "Some of the most popular junior singers these days are not good at greetings".  Although he understands how troublesome it may be to greet fellow artists once they get their break, he advised his juniors to at least respect Kang Ta. Heechul even said that he doesn't mind if juniors don't greet him, but they should at least greet their seniors.
Heechul also spoke directly to the juniors under SM Entertainment saying, "Especially SM hoobaes, you have to be thankful to Kangta. Without him, we won't be here either."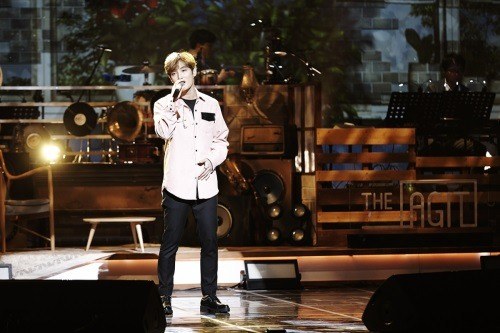 It seems like Heechul felt like he had to defend Kang Ta from getting disrespected by fellow artists. His group, Super Junior, is known by fans as the senior artists who treat their juniors well. A statement from their leader Leeteuk back in 2014 also revealed that disrespecting their seniors is one behavior they don't like from an idol. Leeteuk warned junior artists at the time to remain humble since fame and popularity are never certain things but seniors always merit respect.
The short segment continued with Heechul talking about Kang Ta's role as a senior and his achievements under SM Entertainment. Kang Ta made his debut with the agency as part of H.O.T back in 1996. He was one of the first members selected by Lee Soo Man for this project. Aside from being a singer, he was known for his skills in songwriting and composing. Shortly after H.O.T disbanded in 2001, Kang Ta continued promoting as a solo artist. He also appeared on project collaborations as part of S and Kang Ta and Vanness. 
Kang Ta is currently celebrating the 20th anniversary of his debut and hit song, Home: Chapter 1. After his appearance in Seoul, Kang Ta will bring his concert tour to Busan on December 10th and 11th.
What is your response to Heechul's statement? In case you need a reminder of how the "sunbae and hoobae" relationship is supposed to work, here's a hilarious example enacted by Shinhwa and Lee Hyori. 
Source: Herald
Share This Post