Here's how BTS V got those cuts on his back during MAMA 2016
Thanks to a special effects artist who worked behind the scenes at the MAMAs, we have gotten a rare glimpse into the world behind the curtains of BTS's recent stage appearance.
BTSrecently appeared at the 2016 Mnet Asian Music Awards and performed "Boys Meets Evil Part.1,"  "Boy Meets Evil Part.2," "Blood, Sweat, & Tears," and "Fire". Before the "Fire" performance, BTS members V and Jin had a little surprise for fans as they reenacted a scene from the "Blood, Sweat, & Tears" music video.
The stage began with V walking towards Jin, whose back was facing the audience. Once he reached Jin, V knelt down and took off his jacket revealing his bare back, and the audience could see he had severed stumps of angel wings. V's character from the music video was a devil, and the scars were from his angel wings which had been chopped off.
The special effects artist, Jisu Yim, who did V's torn wings makeup shared her thoughts of the final result on Instagram.
Posting a clip of the stage, Jisu added the caption: "I came to MAMA2016 for BTS's special effects makeup. Thankfully, the effects didn't fall off and the stage ended well. (I was worried, myself) Getting on the plane right away and heading home now good work good work."
A day later, Jisu Yim shared a clip of a zoomed-in version of the stage and expressed how it was unfortunate that the camera couldn't capture a clear image of the special effects makeup.
"2016 MAMA BTS, "Blood, Sweat, and Tears". After the stage yesterday, I tried to express a fallen angel by showing the scars from having his wings ripped out as a performance. It's regrettable that the lights were too strong and unfocused but it was still fun."
Fans have managed to save this clear picture of the end result on V, though, and it looks amazing.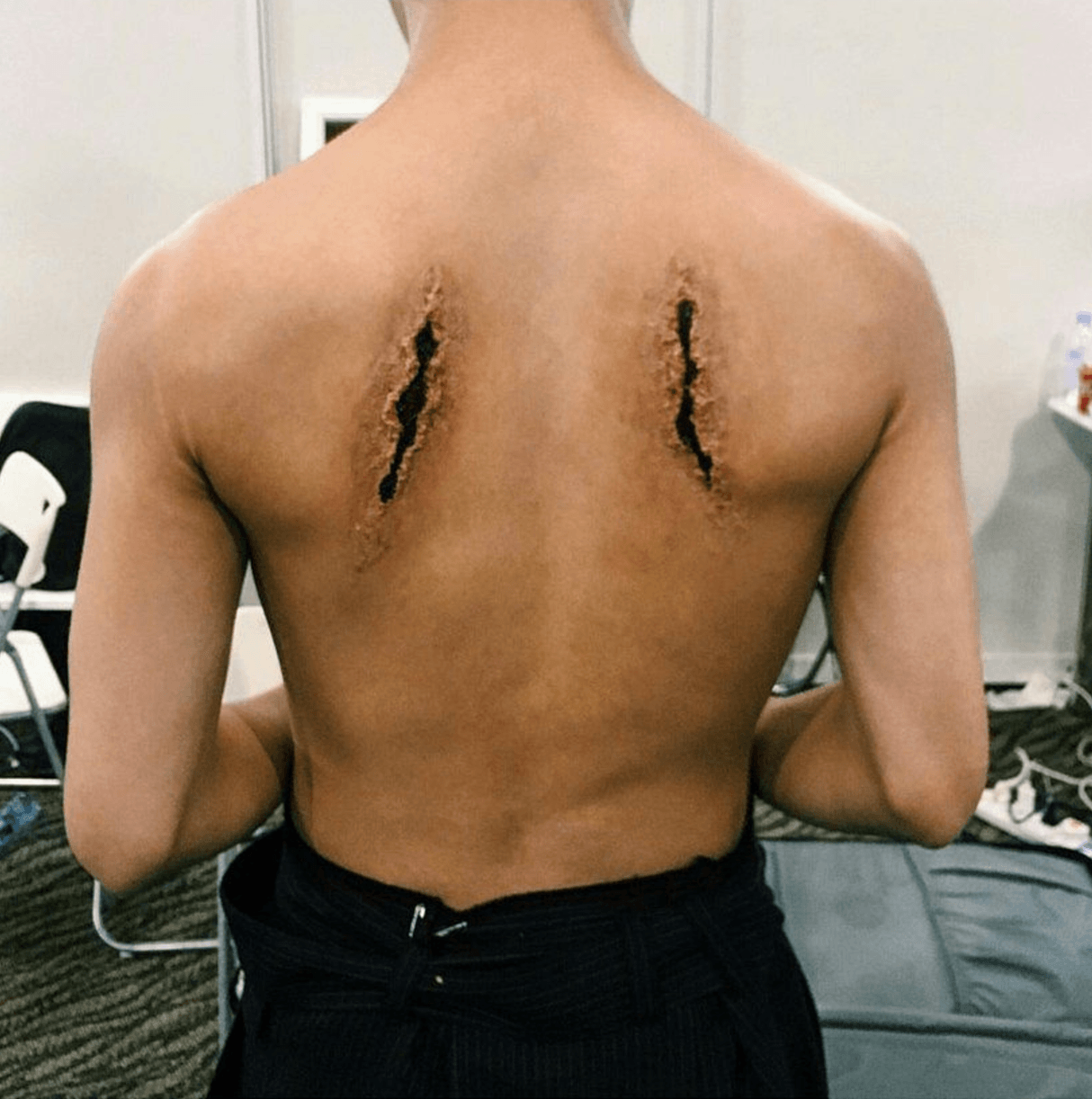 Jisu Yim also gave us a behind-the-scenes look at how messy and chaotic it could be in the waiting room when preparing idols for an outstanding stage.
"What it's like behind a beautiful stage #waitingroom"
Share This Post