This Is What Red Velvet Members Call Each Other In Private
The members of Red Velvet have revealed how they save each other's names on their own phones.
While promoting for their latest comeback, the members showed off their different personalities and quirks by revealing the different nicknames that they've assigned their fellow members. While members Wendy, Seulgi, and Yeri gave personalized nicknames or descriptions for each member, Irene and Joy opted for a more unified format of nicknames. While Irene has stuck to calling all the members poop puppies, Joy has been addressing the members as her unnies and dongsaeng (little sister).
Check out their cute nicknames below!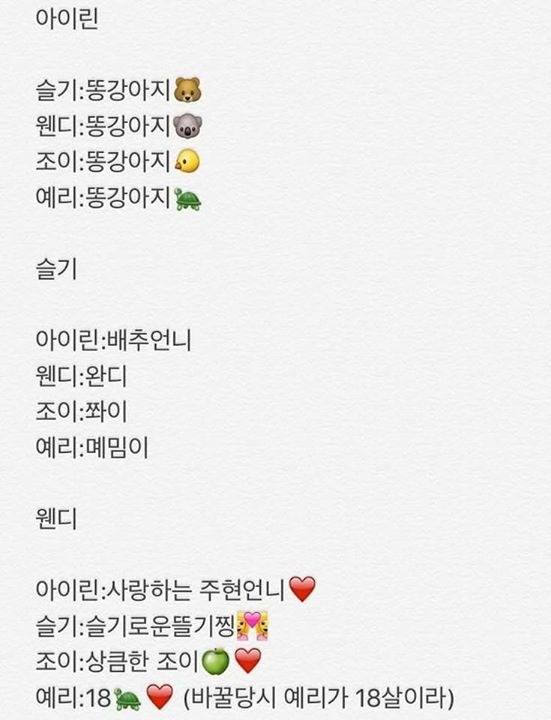 Translation:
Irene:
Seulgi –  Poop Puppy?
Wendy – Poop Puppy?
Joy – Poop Puppy?
Yuri – Poop Puppy?
* "Poop Puppy" is an affectionate term parents or grandparents use when referring to their children or grand children
Seulgi:
Irene – Baechu unnie
Wendy – Wandy
Joy – Jjwai
Yeri – Myemim-i

Wendy:
Irene – My lovely Joohyun Unnie❤️
Seulgi – Sensible Ddeulgi-Jjing?‍❤️‍?
Joy – Refreshing Joy?❤️
Yeri – 18?❤️ (because She's turning 18)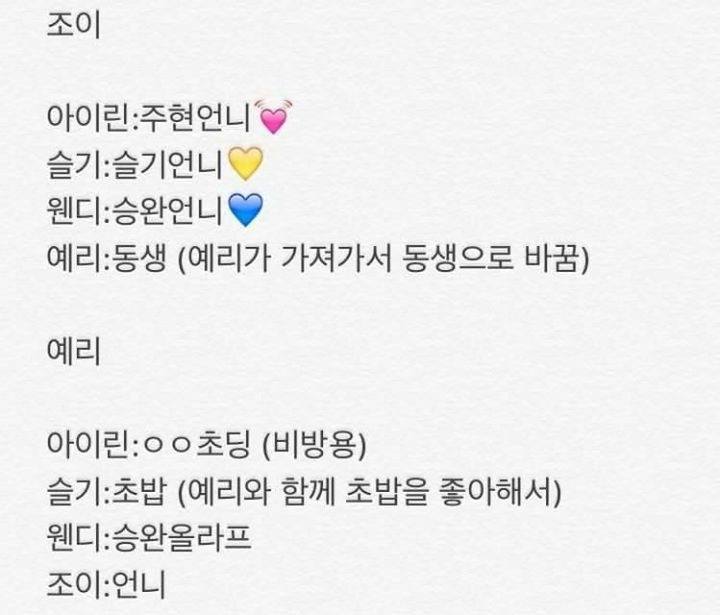 Translation:
Joy:
Irene – Irene Unnie?
Seulgi – Seulgi Unnie?
Wendy – Wendy Unnie?
Yeri – Little Sister
Yeri:
Irene – (censored) little kid
Seulgi – Sushi
Wendy – Seungwan Olaf
Joy – Unnie
Naming people on one's phone is a very important matter that demonstrates how close you are with that person. If Red Velvet's names for one another is any indication of their relationship, it appears the girls have quite a strong bond.
Share This Post