Hyeri and Minah burst into tears while talking about their parents
Girl's Day's Hyeri and Minah shared their emotional stories about their hard-working parents.
On a recent episode of tvN's celebrity talk show, Taxi, Girl's Day's Hyeri and Minah visited Gapyeong valley in Gyeonggi and shared stories of their 8-year-long friendship, as well as their love and respect for their parents.
Hyeri explained that she used her family's difficult circumstances as motivation to work hard so that she could succeed and help her parents. When asked if she had ever thought about what they planned on doing for her parents once they became successful, Hyeri broke into tears as she gave her answer.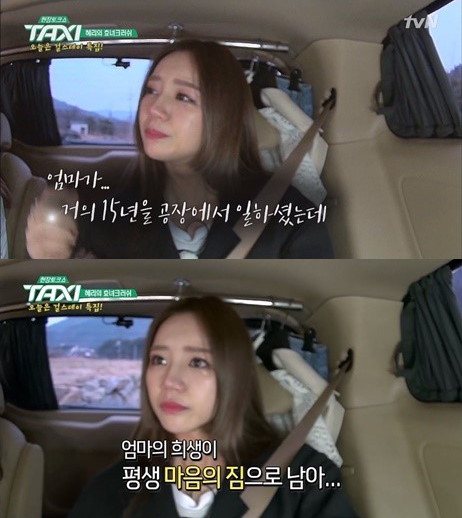 "I guess I'm weird in this sense but I've always thought about what I wanted to do for my parents my whole life. I'm still thinking about it right now.

For 15 years, my mom worked at a factory and I've always felt guilty about that, because I felt like my mom spent her youth working there for me.

If my mom finds out about this I know she'll feel sad, but I'm so sorry and thankful for her."

— Hyeri (Girl's Day)
Hyeri's tears seemed to be contagious, as Minah had already started crying during Hyeri's stories before she began to tell her own. In Minah's case, she expressed her regret over not being home for 3 years while she was a trainee.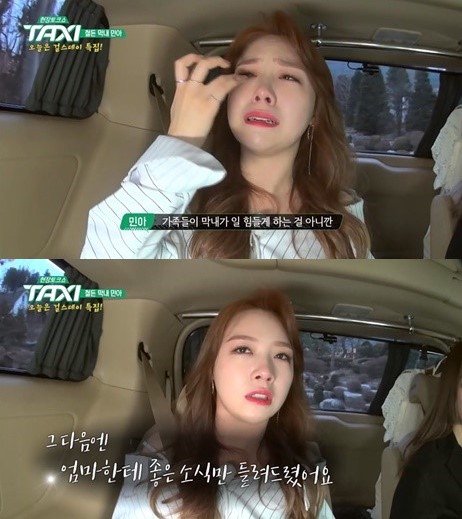 "I wasn't able to visit home for 3 years since I was a trainee. But during that time, there were a lot of problems in our household. My family knew I was working hard, so they never told me. But as soon as I found out, I think I really tried to send my mom only good news. I feel that I'm changing as a person now."

— Minah (Girl's Day)
Watch their emotional moment below:
Source: ENews 24
Share This Post