Kris, Tao, and Luhan dominate year-end charts in China
Kris, Tao, and Luhan are used to chart-topping success, and last year was no different.

Tencent recently released their year-end entertainment charts. The box office numbers are massive as even number 10 on that list drew 300 million yuan (45 million USD.) Among the lists are also the top celebrities and music videos released in China.
This year Kris, Tao, and Luhan made sure they'd get on as many lists as possible. Their numbers are staggering and they show no sign of stopping with Kris starring in the upcoming Hollywood film xXx: Return of Xander Cage, Luhan's numerous television appearances, and Tao's continued music career.
Top 10 "Fresh Meat" Box Office Performance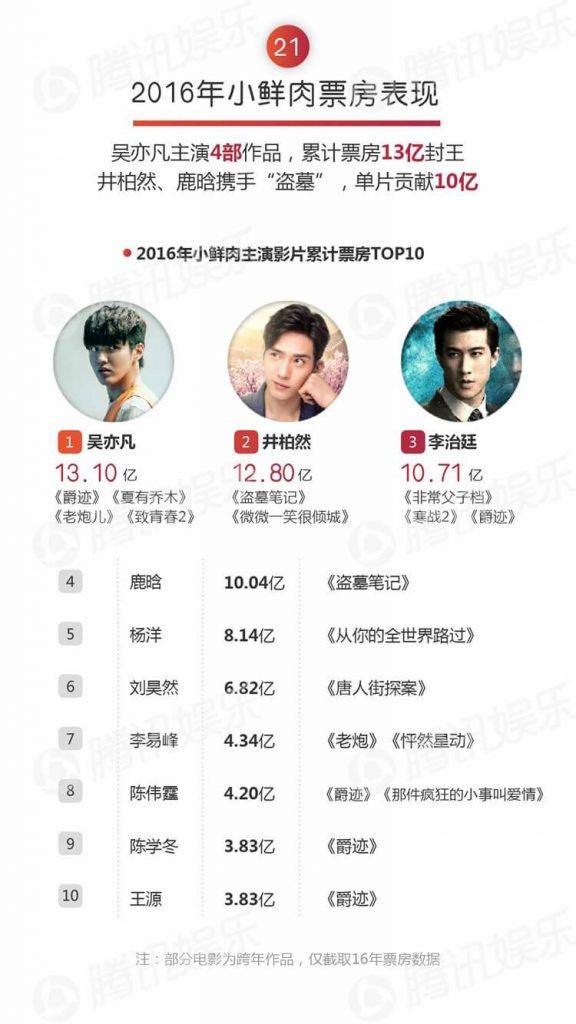 1. Kris Wu (1.31 billion yuan)
2. Jing Boran (1.28 billion yuan)
3. Aarif Lee (1.071 billion yuan)
4. Luhan (1.004 billion yuan)
5. Yang Yang (814 million yuan)
6. Liu Haoran (682 million yuan)
7. Li Yifeng (434 million yuan)
8. William Chan (420 million yuan)
9. Chen Xuedong (383 million yuan)
10. Wang Yuan (383 million yuan)
Most Popular Variety Show Personalities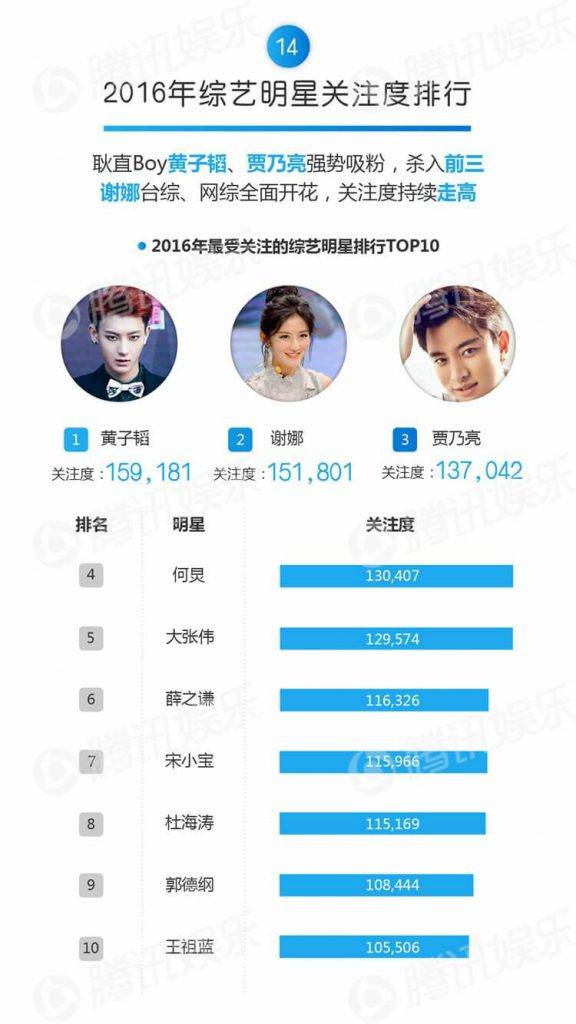 1. Huang Zitao
2. Xie Na
3. Jia Nailiang
4. He Jiong
5. Wowkie Zhang
6. Xue Zhiqian
7. Song Xiaobao
8. Du Haitao
9. Guo Degang
10. Wong Cholam
Top 10 Hottest Songs of 2016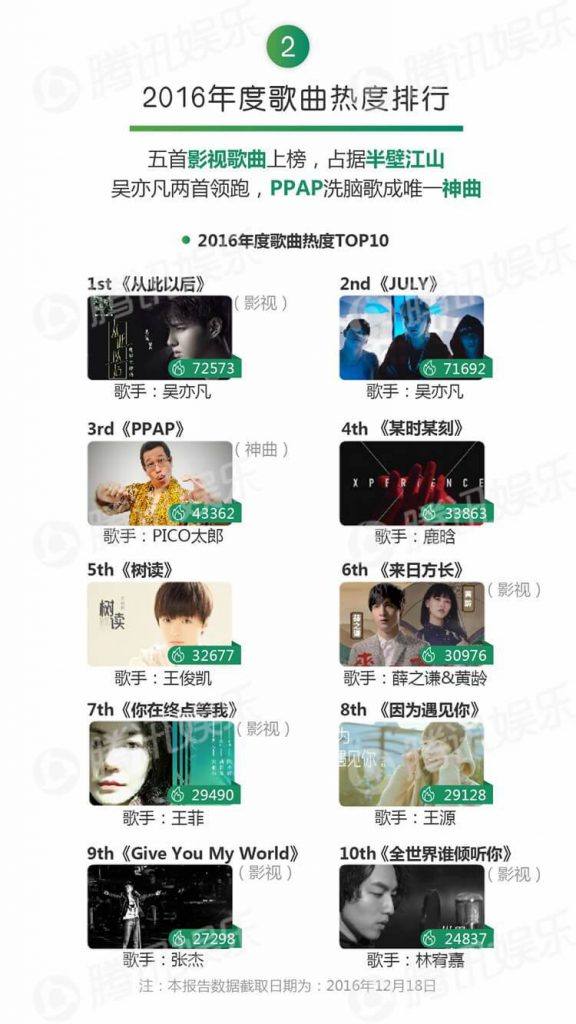 1. Kris Wu – From Now On (72,573)
2. Kris Wu – July (71,692)
3. Pikotaro – PPAP (43,362)
4. Luhan – Catch Me When I Fall (33,863)
5. Wang Junkai – Ode to a Tree (32,677)
6. Xue Zhiqian & Isabelle Huang – 来日方长 (There Is Plenty of Time in the Future)(30,976)
7. Faye Wong – You're Waiting For Me At The End (29,490)
8. Wang Yuan – Because I Met You (29,128)
9. Zhang Jie – Give You My World (27,298)
10. Yoga Lin – 全世界誰傾聽你 (Who Listens to You Attentively?) (24,837)
Top 10 Hottest Singers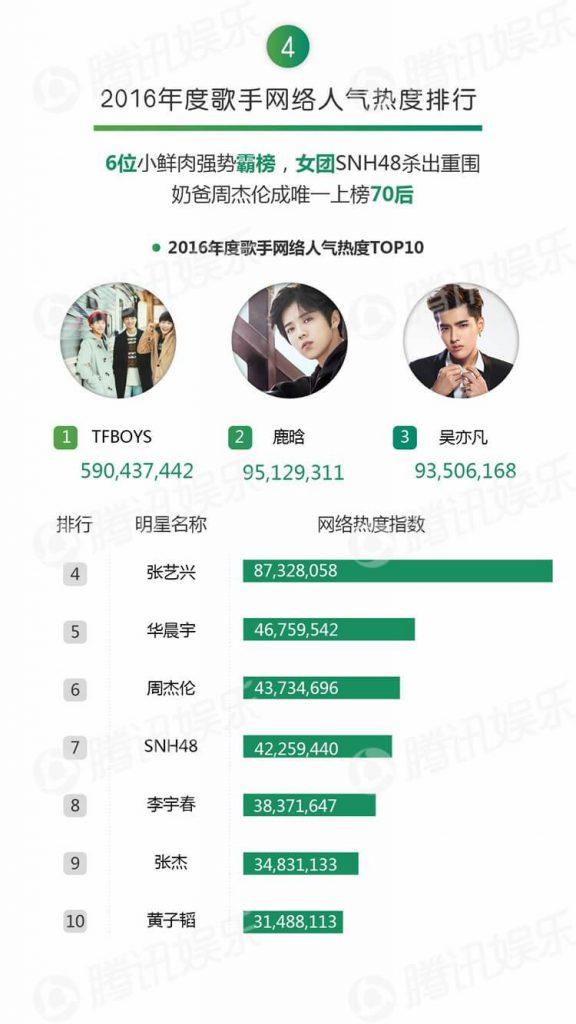 1. TFBoys
2. Luhan
3. Kris Wu
4. Zhang Yixing
5. Hua Chenyu
6. Jay Chou
7. SNH48
8. Chris Lee
9. Zhang Jie
10. Huang Zitao
Top 10 Hottest Celebrities
1. Wang Junkai – 144,122,427
2. Jackson Yi – 97,170,943
3. Luhan – 95,129,311
4. Kris Wu – 94,680,989
5. Wang Yuan – 83,698,978
6. Li Yifeng – 71,770,931
7. Yang Mi – 70,456,034
8. Zhao Liying – 67,728,058
9. Zhang Yixing – 67,506,168
10. Fan Bingbing – 54,188,086
Most Commercially Valuable Celebrities

1. Hu Ge
2. Kris Wu
3. Fan Bingbing
4. Deng Chao
5. Angelababy
6. Zhao Liying
7. Luhan
8. Tiffany Tang
9. Yang Yang
10. Yang Mi
Most Commercially Valuable "Fresh Meats"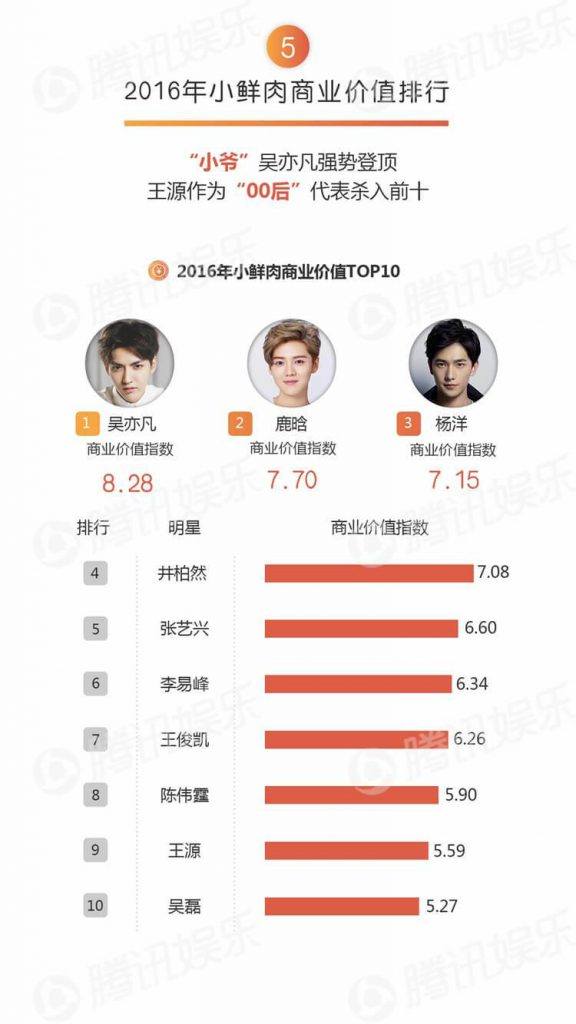 1. Kris Wu
2. Luhan
3. Yang Yang
4. Jing Boran
5. Zhang Yixing
6. Li Yifeng
7. Wang Junkai
8. William Chan
9. Wang Yuan
10. Wu Lei
Top 10 Trending Celebrities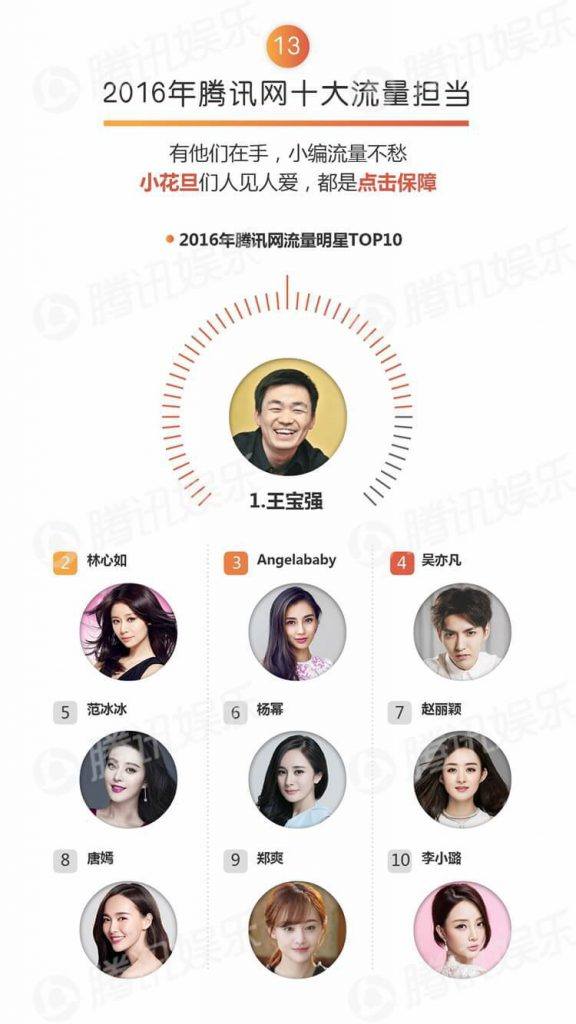 1. Wang Baoqiang
2. Ruby Lin
3. Angelababy
4. Kris Wu
5. Fan Bingbing
6. Yang Mi
7. Zhao Liying
8. Tiffany Tang
9. Zheng Shuang
10. Li Xiaolu
Source: QQ
Share This Post