6 Photos Reveal The True Effect Of Photoshop On Idol Photoshoots
Photoshop is an absolute must in photoshoots and here's why!
Leaked before and after photos of celebrity photoshoots show just how much difference photoshop makes in these advertisements. We all know most celebrity photoshoots are polished up with Photoshop before they're sent to be viewed by the public eye, but just how much Photoshop is used? What do celebrities really look like before they're touched up?
1. Min Hyo Rin
While Min Hyo Rin looks just as beautiful in the behind-the-scenes photo as in her actual photoshoot, the touched-up version has made her facial features a bit sharper while blurring her flawless skin to create even finer porcelain skin.
2. Jessica Jung
The tones in the finalized image create a much more romantic look for this clothing photoshoot!
3. Jessica Gomes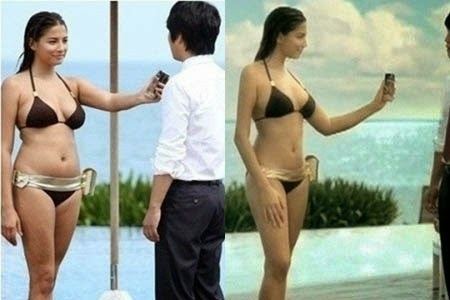 The use of editing in Jessica Gomes' CF with Cha Tae Hyun erased all of the flab from Jessica Gomes' body, from her chest, stomach, back, face, and legs.
4. After School's Nana
Nana's MEMEBOX photoshoot has highlighted the vivid colors of her makeup but that's not very surprising as it is an advertisement for a cosmetics brand!
5. Actress Park Si Yeon
Park Si Yeon's photoshoot has enhanced the color tones of the image to emphasize the jewelry, which she is advertising! Her visuals are stunning in both the behind-the-scenes and the actual shoot!
6. Actress Kim So Hyun
The wonders of Photoshop changed this everyday scenery of Taiwan into a stylish photoshoot!
Share This Post